Washington, D.C. Small Business Owner Highlight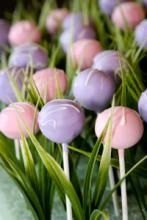 One D.C. entrepreneur made the rare decision to forfeit her high-paying career at a law firm and embrace her creative side by going into the kitchen and whipping up cake pops. That daring leap led Yael Krigman to open the area's first-ever store dedicated to cake pops, a cakepoppery called Baked by Yael.
As a buttoned-up law firm associate, Krigman's desire for a more lighthearted work environment began when she started a tradition known as "Monday Treats," where she would bring in baked goods she made from scratch to counteract the doldrums of her office environment.
Washington, D.C. Events
There are currently no events scheduled in this area. Please check back later or register for one of our
upcoming national webinars
on topics like small business lending options, retirement and more.
Washington, D.C. Policy
Browse our latest state-based regulatory comments and legislative testimony in this area below, or click the button to view all records.
Wednesday, November 7, 2018
Tuesday, October 10, 2017