North Carolina Small Business Owner Highlight
A love for pounding out rhythms and grooves with his own two hands became an unlikely success story for Kevin Brown, owner of Rhythm House Drums.
The Matthews, NC based small business was a labor of love for Brown, who claims it wasn't his initial goal to set off and start his own business.
"I was just playing and building drums as a hobby," Brown said. "I soon realized that what I was doing was very unique and others were interested in these drums."
North Carolina Events
There are currently no events scheduled in this area. Please check back later or register for one of our
upcoming national webinars
on topics like small business lending options, retirement and more.
North Carolina Research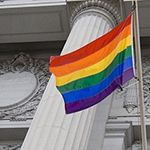 Small Business Majority released a national scientific opinion poll—including oversamples in five states—that found small business owners oppose denying services to LGBT customers based on religious beliefs, rights to free speech or freedom of artistic expression. Further, the poll showed that a majority of small businesses support enacting federal and state laws to protect LGBT individuals from discrimination in places of public accommodation. Small business owners feel that nondiscrimination policies are good for their state's business climate and their own business's bottom line.
Extreme weather events have been front-page news lately, especially with the U.S. experiencing record storms across much of the country and devastating droughts in the West. Research shows small businesses are especially susceptible to financial ruin after an extreme weather event. 
It's not surprising then that Small Business Majority's polling found nearly 1 in 5 North Carolina small business owners had to lay off workers after they were negatively impacted by an extreme weather event.
Small business owners nationwide are doing all they can to strengthen their businesses and put the Great Recession's effects behind them. Now more than ever, it's critical they have the help of smart employment laws allowing them to attract and retain the best talent. National scientific opinion polling shows the vast majority of small business owners believe we're long overdue for federal and state policies protecting all workers from discrimination, regardless of sexual orientation or gender identity.