Awesta Sarkash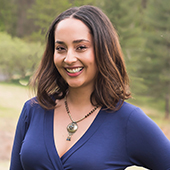 Awesta Sarkash directs Small Business Majority's policy initiatives federally and in Virginia and New Mexico. She is charged with tracking legislative and regulatory developments and maintaining a knowledge of policies across multiple states.
Prior to joining Small Business Majority, Awesta served as the Director of Advocacy and Communications at the Coalition for Nonprofit Housing and Economic Development (CNHED), a nonprofit membership association that supports the community development sector in DC. She was responsible for facilitating the development and execution of CNHED's budget and policy advocacy strategies across a broad range of community development issues, including workforce development, small business entrepreneurship and neighborhood-based commercial corridors. Prior to joining CNHED, Awesta served as the grassroots and advocacy manager for the American Land Title Association. She also served as assistant director for the Center for Congressional and Presidential Studies' Public Affairs and Advocacy Institute at American University and in Brussels for the European Public Affairs and Advocacy Institute.
Originally from Afghanistan, Awesta grew up in Albuquerque, New Mexico and received her Master's in Political Science from American University in Washington, D.C. with a focus on American politics and advocacy. In 2022, Awesta was awarded the Top 20 in 2022 Advocacy Professional Award by the Advocacy Association.
Use this form to contact Awesta: