Missouri Small Business Owner Highlight
Missouri Events
There are currently no events scheduled in this area. Please check back later or register for one of our
upcoming national webinars
on topics like small business lending options, retirement and more.
Missouri Policy
Browse our latest state-based regulatory comments and legislative testimony in this area below, or click the button to view all records.
Thursday, January 9, 2020
Thursday, October 3, 2019
Missouri Research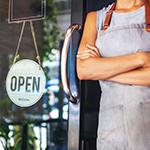 Policymakers at all levels, from town councils to the halls of Capitol Hill, emphasize the challenges of small businesses as a key talking point during political debates. But new opinion polling in four states—Illinois, Missouri, Virginia and Wisconsin—reveals small businesses feel their government officials don't actually understand their challenges, and they support a wide array of policies to address their needs, some of which might come as a surprise to their elected officials.
Small business owners nationwide are doing all they can to strengthen their businesses and put the Great Recession's effects behind them. Now more than ever, it's critical they have the help of smart employment laws allowing them to attract and retain the best talent. National scientific opinion polling shows the vast majority of small business owners believe we're long overdue for federal and state policies protecting all workers from discrimination, regardless of sexual orientation or gender identity.
When the Affordable Care Act was signed into law in 2010, it delivered sweeping reform to the nation's healthcare system. A significant feature of the law is an expansion of Medicaid to cover a larger number of low-income individuals. In June 2012, the Supreme Court ruled it was up to each state to decide whether to expand eligibility for Medicaid. The Medicaid expansion gives every state the opportunity to take advantage of federal funding that will support jobs and stimulate economic growth throughout the state while expanding health coverage for its residents.