Virginia Small Business Owner Highlight
How does a former magazine art director become the owner of one of the most heralded bakeries – The New York Times, Esquire and Southern Living are among the many singing it's praises – in the country? The answer starts with a red, 1954 Ford F-100 purchased from Tommy Hilfiger.
Virginia Events
There are currently no events scheduled in this area. Please check back later or register for one of our
upcoming national webinars
on topics like small business lending options, retirement and more.
Virginia Policy
Browse our latest state-based regulatory comments and legislative testimony in this area below, or click the button to view all records.
Tuesday, December 10, 2019
Thursday, October 15, 2020
Virginia Research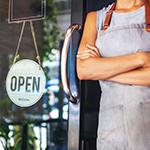 Policymakers at all levels, from town councils to the halls of Capitol Hill, emphasize the challenges of small businesses as a key talking point during political debates. But new opinion polling in four states—Illinois, Missouri, Virginia and Wisconsin—reveals small businesses feel their government officials don't actually understand their challenges, and they support a wide array of policies to address their needs, some of which might come as a surprise to their elected officials.
Extreme weather events have been front-page news lately, especially with the U.S. experiencing record storms across much of the country and devastating droughts in the West. Research shows small businesses are especially susceptible to financial ruin after an extreme weather event. 
It's not surprising then that Small Business Majority's polling found nearly 1 in 5 Virginia small business owners had to lay off workers after they were negatively impacted by an extreme weather event.
Small businesses account for a significant share of Virginia's economy. For every one large business in Virginia, there are 50 small businesses diligently working to reenergize the state's economy. These entrepreneurs are doing everything they can to hire, grow and move their businesses forward. As part of these efforts, recent scientific opinion polling shows that Virginia's entrepreneurs want pragmatic, innovative policies that help guide them into a competitive, modern clean energy economy.