Sumner Furniture Brings a Little Feng Shui to the Stuffy Office Environment
Thursday, September 4, 2014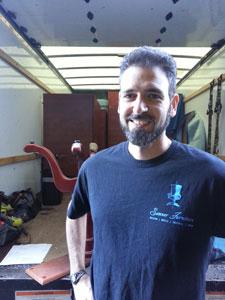 Office furniture is often just a boring afterthought for many. But Sumner Furniture sets out to put the fun in functional when it comes to adorning offices with top-notch furniture.
Jeff Thorner, the self-proclaimed Furniture Guy, is the founder and CEO of Sumner Furniture in Washington, D.C., and he's on a mission to help make your office stand out.
"Furnishing an office is one of the biggest investments you'll make as a business owner," Thorner said. "The process can be overwhelming and often times our clients have never gone through the process before."
Luckily, Sumner Furniture is here to outfit offices with quality, affordable and design-oriented furniture, be it ripped straight from the latest catalogues or one-of-a-kind custom designed pieces, and it has become the go-to national supplier for start-ups since 2013. And that's exactly how Thorner started Sumner Furniture – from the ground up.
"I've always known I wanted be my own boss," he said, reflecting on his years of work in finance and the sense of unfulfillment it left him with. "I never felt like I was truly offering a valuable service and it's important to me to find ways to help others on a daily basis. I was also miserable sitting at a desk all day."
It took a year, but Thorner finally quit that dead-end desk job and went to work for a small furniture company. Things were going swimmingly until the owner couldn't make payroll.
"All of the sudden I was out of a job with a kid at home and a second on the way. I spent a day or two licking my wounds and then decided this was my time to start my own business. The next day I incorporated and I haven't looked back since."
And Thorner hasn't needed to. After all, Sumner Furniture has been bringing décor to the forefront for many new start-ups and small business owners. "As a small business, we understand the unique demands and needs of our fellow start-ups and small businesses."
Sumner Furniture is a full-service office furniture company, providing both new and pre-owned furniture and handling the design and installation of it. But it's their consultative approach that truly sets them apart.
"Sumner Furniture's greatest asset is our ability to listen and anticipate client needs," he said. "We are experts in what we do and we pass that expertise onto our clients. We provide excellent pricing because the heart of our business – what matters to us most – is helping other start-ups get their needs met so that they can grow, as well."
That hard work and customer service-oriented approach has certainly paid off as demand for Sumner Furniture's products and services has skyrocketed: "My phone is always ringing, buzzing or dinging."
Finally his own boss and seeing the payoff he's been waiting his entire career for, Thorner is in the position to bring that success and happiness to new start-ups and business owners, one swanky cubicle at a time.