New York Small Business Owner Highlight
If there's one thing you want so fresh it's practically able to jump off your plate, it's fish. Luckily, Sea to Table has made a business out of providing just that. Without the jumping fish, of course.
Owned and operated by Michael Dimin and his family, Sea to Table partners with fisherman from sustainable, small-scale fisheries and delivers the freshest of catches straight from the docks overnight.
New York Events
There are currently no events scheduled in this area. Please check back later or register for one of our
upcoming national webinars
on topics like small business lending options, retirement and more.
New York Research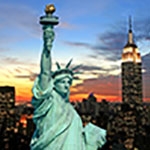 New York small business owners are still recovering from the Great Recession and doing everything they can to fortify their businesses, and with them, the economy. In order to grow and thrive, entrepreneurs need smart policies that help bolster their bottom lines and fuel the consumer demand that underpins economic success. They believe increasing the minimum wage will do this, and support granting cities and counties the authority to set higher minimum wages above the state level.
Small business owners in the Empire State have been working tirelessly to pull the state's economy back from the brink of the Great Recession. The long hours and commitment they put into their businesses are rivaled only by their employees, whose hard work is crucial to the success of the business. That's why New York small business owners feel it makes good business sense to take care of their employees, as it's crucial they retain a loyal, talented workforce.