California Small Business Owner Highlight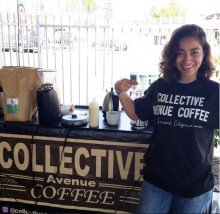 In this economy it's a notable accomplishment to secure a well-paying, full time job with benefits in your early twenties. But it's perhaps even more impressive to leave the security of such a position to pursue a dream of becoming a business owner. That's exactly what Kateri Gutierrez did when she opened her mobile coffee shop, Collective Avenue Coffee, in the fall of 2015. However, when Kateri answered her call to entrepreneurship, it came at a price; it meant leaving behind her employer-sponsored health coverage.
California Events
California Policy
California Research
Introduction 
America's small business owners are doing all they can to outlast the condition of today's economy. These hardworking employers know they need the right kind of help if they are to thrive. That's why they believe immediate action is necessary to form bold clean energy policies that will prompt innovation, and in effect, stimulate small business and the economy.
California's Global Warming Solutions Act, commonly referred to as AB 32, calls for substantial reductions in the state's carbon emissions. The impact it will have on the economy, and particularly on small businesses, has spurred tremendous debate as the law is being implemented.