Panel of experts share best resources for Hispanic and Latino small business owners
Wednesday, September 15, 2021
From September 15 to October 15, we celebrate National Hispanic Heritage Month by sharing resources for Hispanic and Latino small business owners. This year, we asked Small Business Majority network member Jaqueline Vrba and National Latino Outreach Manager Latavia Pineda about their work with the Hispanic community and their favorite resources.
Our panel includes:
Jaqueline Vrba: Jaqueline Vrba is the Founder/ CEO of BIOME Herbolaria Cosmetics, a company dedicated to create and sell natural and zero waste herb-based products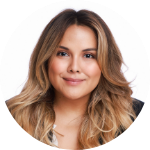 like soaps, shampoos, and incense. Jaqueline is also the founder of Fridars, a place for the women in Riverside and beyond to learn how to make different handmade products and how to grow a sustainable business from home. The idea has expanded to over 20 different courses and has become a unique, cultural and educational place for women in her community.
Latavia Pineda: Latavia Pineda serves as Small Business Majority's National Latino Outreach Manager, where she focuses on connecting monolingual and bilingual business owners to their small business ecosystem, and expands our outreach within the Latino business community. Latavia is passionate about uplifting the voices of small business owners and advocating for policies and initiatives that promote economic development in the region.
Q: Why is it important to talk about entrepreneurship during National Hispanic Heritage Month?
JV: In media, from advertisements to movies, we see Hispanic people often get the roles of the help and side characters. Now things are changing, but it's not enough and therefore it's important to uphold the idea that Hispanic women can take on more roles beyond being a maid and Hispanic men can take on roles beyond being a gardener.
This idea isn't to say that those jobs aren't valid. They are essential, but it is important to present the concept of having opportunity for more. Talking about entrepreneurship during National Hispanic Heritage Month is essential to perpetuating the idea that Hispanic people are meant to hold executive roles as well. It's essential to continuously push our youth to learn about our history. This isn't a new idea or an impossible task, but rather it simply hasn't been covered in the media and in history books. If entrepreneurship was possible then, the possibilities now are endless.
LP: It is critical that we take the time to acknowledge the role that Latino entrepreneurs play in their communities and the economy as the group that is opening more small businesses than anyone else in the country. Latinos are job creators, philanthropic leaders and pillars in their communities; take Jaqueline as a perfect example. The entrepreneurial spirit has deep roots in the community and is a central part of our legacy in this country.
Q: What barriers have Hispanic and Latino small business owners faced during the pandemic, and how can business organizations help?
JV: While grants were presented as a solution to the economic depression left by COVID-19, at Fridars I personally witnessed many women who could not apply for grants because their business was not officially registered. Business organizations can help by changing their systems, facilitating the process of registering a business and offering help to those who are overwhelmed when they're first presented with the idea of a business plan.
LP: Unfortunately, technical and financial literacy have been two of the most significant hurdles faced by Latino entrepreneurs during the pandemic. Both have posed a series of challenges, including the inability to access funding, emergency assistance, and new markets. Many business organizations are primarily focused on helping business owners navigate these challenges. They can help entrepreneurs refine their finances, apply for loans and grants and digitize their businesses.
Q: What policies are you advocating for to support Hispanic-owned small business recovery?
JV: There's no doubt that it's important to advocate for education. Acquiring new skills and learning to be flexible during difficult times are important steps to recovering as a business. Learning new skills such as technology, marketing, networking or even language skills are very important. Many might feel nervous at the idea of investing in recovery, but one thing people should never be afraid of investing in is their education!
While there are resources available, it's important to continue pushing for more grants and better awareness of the funding options available to small businesses. At Fridars, we believe education is important, being flexible in the face of adverse situations is important and it is important for those people who want the help to have resources not only available but facilitated to receive.
LP: During the pandemic, we have seen so many Hispanic and Latino business owners struggling to access the tools they need to continue running their businesses from funding to broadband to child care. That is why we are advocating for physical infrastructure bills that will support the recovery of businesses that were left behind by federal funding programs. And measures in the human infrastructure plan that would make child care more affordable and paid family leave possible are essential to the business owners we serve.
Q: What is one resource you like to share with Hispanic small business owners you meet?
JV: Working with other organizations with experience is one of the greatest resources I usually share with other Hispanic small business owners. Joining a chamber of commerce holds so many benefits for networking and it will inform you of upcoming grant opportunities. It also opens up opportunities for community outreach and usually when small business owners give back to the community, the good energy and involvement comes back in the same way it's given out.
LP: I encourage everyone to use our small business resource map and familiarize themselves with the business support organizations in their area. It is crucial to develop relationships with your small business ecosystem and understand the tools and resources that are available to you.

Q: What is the best advice you can give to small business owners who are navigating the changing landscape of entrepreneurship during the pandemic?
JV: The best advice I can offer is to keep in mind that mentality is everything. Set your mind up to form positive thoughts, keep a good energy, and that will open the way to many opportunities. Soon small setbacks won't look like small setbacks, they'll start looking like a redirection to a better path! Keeping a good state of mind is key.
LP: Develop a support network! Entrepreneurship can be very isolating, but it doesn't have to be. Whether you know it or not, there is someone in your corner, someone you can rely on, and someone who wants to see you succeed. Get connected!