Meet our Outreach Team -- Latavia
Thursday, October 15, 2020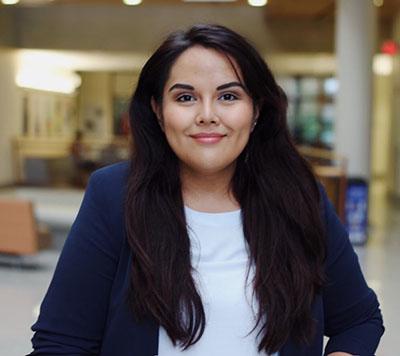 Small Business Majority's Outreach Team advocates for entrepreneurs on two fronts: It supports policies that would benefit small firms, and it offers workshops and events that help small business owners grow their companies. We have found this work to be even more important during this global health and economic crisis.
This week we are spotlighting Latavia Pineda, Small Business Majority's new Southern California Outreach Manager, to let small business owners know how our team members can assist them.
Q: Could you tell us about your position at Small Business Majority?
I manage Small Business Majority's outreach and education efforts in Southern California and develop relationships with small business owners, business organizations and policymakers throughout Los Angeles and the Inland Empire. A large portion of my work involves providing relevant information and resources to business owners and connecting them to the tools they need to thrive.
Q: Can you tell me a little bit about your background? What were you doing before you came to Small Business Majority? What brought you here?
I recently graduated from American University where I studied International Relations and Spanish Language. I pursued an academic concentration in Global Health because I am very passionate about health equity and addressing the systemic issues that have led to the disenfranchisement of several groups. During my time as an undergraduate, I interned at several organizations in Washington, D.C. and Colorado, including the Wilson Center's Mexico Institute, the Central American Resource Center and El Centro AMSTAD. All of these opportunities allowed me to support the Latino community and helped shape my passion for community outreach.
I joined the Small Business Majority team as an intern for the Engagement Team to support the organization's COVID-19 response work and found that I really enjoyed speaking with and supporting small business owners, so when this position opened on the Outreach team, I jumped at the opportunity. I love that the work we do directly promotes equity and economic mobility, which is currently more important than ever before.
Q: Tell us about your work with Hispanic and Latino small business owners in Southern California.
I work with partners in the region to create culturally appropriate content and resources for the Spanish-speaking community in Southern California. These entrepreneurs play a crucial role in our economy and community, so it is important to me that they feel empowered.
Q: How do you work to support small businesses in your local community?
In the short time that I have lived in Southern California, I have witnessed how crucial the local small businesses are to the community and I feel grateful to have the opportunity to not only support them as a customer but also to serve as a resource and connect them with all of the incredible tools that can help them thrive.
Q: What is your favorite part about working at Small Business Majority?
Talking with business owners! I love to hear peoples' stories and understand how entrepreneurship has impacted their lives and gauge what tools they need in order to continue being successful.
Q: Did you always know you wanted to work in education and policy? What attracted you to it when you first started?
No, actually. I always knew I wanted to go into the nonprofit sector because I am passionate about supporting communities and marginalized groups and I am very excited that I now have the opportunity to do this via our education and policy work.
Q: What have you learned in your first few months that you wish you could tell all small business owners?
I would like to tell small business owners that entrepreneurship can be very isolating but it doesn't have to be. We are here to support you and help guide you through this very difficult period.
Q: What goals do you hope to accomplish in your first year at Small Business Majority?
One of my main goals is to develop strong relationships with business owners in L.A. and the Inland Empire to ensure that I accurately understand the particular needs of small business owners in this region and am providing adequate resources.