Georgia bakery owner strives to create sustainable careers for her team
Wednesday, November 17, 2021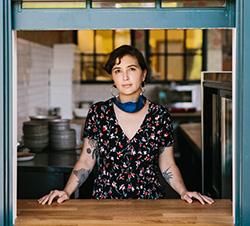 Georgia leads the nation in production of peanuts, pecans, blueberries and spring onions. Don't forget the peaches. The warm weather, diverse soil types and rural surroundings make for fresh, rich produce. For Sarah O'Brien, owner and founder of Little Tart Bakeshop in Atlanta, this luscious produce is one of the main reasons she moved to the South to start her business in 2010.
Sarah opened her first storefront in Grant Park in 2011, a stall at Krog Street Market in 2014 and a location in Summerhill in 2019. Celebrating their 10th anniversary, Sarah now employs 29 full-time employees and 14 part-time workers.
In addition to Little Tart Bakeshop, Sarah also owns Big Softie, an ice cream shop that uses local Georgia dairy products and organic cane sugar.
After years of hard work to build these into successful businesses, Little Tart Bakeshop and Big Softie were swiftly and heavily impacted by the COVID-19 pandemic.
"We were forced to close and start claiming partial unemployment for our whole staff in mid-March, since we had to close all three of our cafes and Big Softie," Sarah said. "We went from being profitable to losing money, suffering losses straight through 2020 and into 2021. We changed our business operations seemingly almost weekly to keep up with the science and local and state regulations. In short, it was a complete catastrophe and at points I didn't know how we'd stay in business."
In February of 2020, even before the COVID-19 pandemic hit, Sarah implemented a paid sick leave policy. She didn't want her employees to sacrifice their hard-earned vacation time because they are sick.
Starting this past year, Little Tart and Big Softie began adding 4% to all transactions to help cover employee benefits including health insurance and sick leave. Sarah said that she wants her customers to know where their money is going and that they offer all their employees and their families health insurance. Little Tart Bakeshop now offers more than a week of sick leave in addition to ample paid time off.
"We are actually hoping to make our insurance plans more generous if the 4% fee we are charging sufficiently covers our costs," Sarah said. "Our insurance costs us over $10,000 per month. It's our largest bill after rent."
Sarah is hopeful that Congress passes a measure to create a national paid family and medical leave program as part of the Build Back Better Plan. She has a maternity, family and sick leave program that she built herself, but that costs the company thousands of dollars a year. She said they are a small company trying to solve very large problems. If Congress enacts provisions to make healthcare and paid family leave more accessible and affordable, she'd be able to invest more back into her businesses.
In the meantime, Sarah is focusing on determining how to honor the work her team does with a sustainable career, which includes thoughtful scheduling, health insurance, sick leave, paid time off, retirement, continuing education opportunities, and a fair wage.
She said, "I am bound and determined to professionalize this career, and it does not have to be terrible to work in the restaurant industry. It can be a personally rewarding and financially secure career."
*Photo credits: Heather Troutman*