Restaurant Revitalization Fund helps keep the lights on for San Jose franchisee
Wednesday, June 9, 2021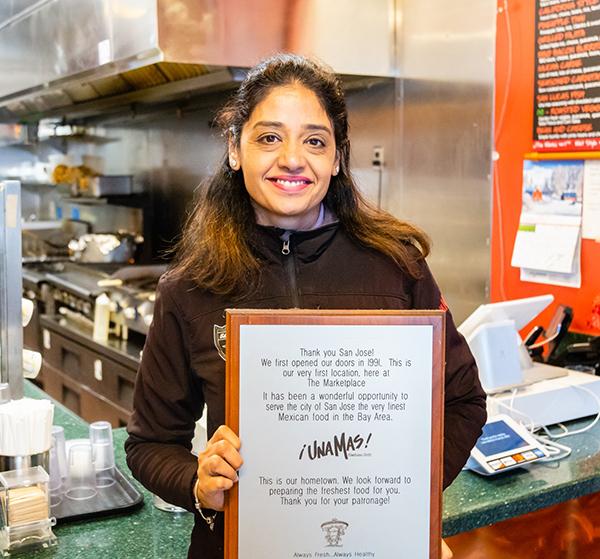 When Shalini Khanna immigrated to Northern California, she found that the majority of jobs available to Indian immigrants were in tech and IT. Uninterested in sitting behind a desk all day, she knew entrepreneurship was for her. 
Unfortunately, she didn't know many entrepreneurs she could turn to for advice and had no hands-on experience running a business despite having an MBA, so she decided to take the route of franchising. 
She says, "I didn't have anything in the bank or any experience, but I knew I wanted to own my own business."
Shalini went online to learn everything she could about franchising. She was overwhelmed by all the information, but when a restaurant near her husband's office at the time was up for sale by a franchisor, she jumped at the opportunity. Now, she is the proud owner of Una Mas Mexican Grill in San Jose. 
However, being a franchisee has not always been a smooth road for Shalini, and she has often felt a lack of support and resources as an immigrant and woman entrepreneur.
During the pandemic, Una Mas has seen sales drop by a whopping 80%. Shalini's restaurant is in a commercial part of the city and foot traffic is now non-existent. She has had to pivot to make boxed lunches and expand her delivery zone.
Fortunately, state and federal lawmakers are making significant investments in Main Street businesses. Recently, Shalini was able to take advantage of California's Main Street Hiring Tax Credit, which gives her a hiring credit against her California state income taxes. She has also received funding through the U.S. Small Business Administration (SBA) for the first time via the Economic Injury Disaster Loan (EIDL) program and the Restaurant Revitalization Fund.
She says, "It was a great reprieve, a shot in the arm, when the funds for the Restaurant Revitalization came through. I have never seen so much capital distributed to small business owners in such a short time. I have been trying to get an SBA loan for 15 years."
She feels like this is the first time that women and small business owners of color have been truly prioritized for funding. 
After 15 years in business, Shalini has learned the ins and outs of business ownership on the job. Now that she is confident she will be able to keep the lights on through the end of the year, she is beginning to look forward. Now that she has survived the great recession and is on the road to overcome the COVID-19 pandemic, she feels confident in her ability to start her own branded business. 
She advises her fellow small business owners, "Do your due diligence before you enter into any business agreements. Overlooking details can cost you dearly. I've been lucky."