Latino business owner on path to rebound, but a Catch-22 is holding him back
Thursday, September 23, 2021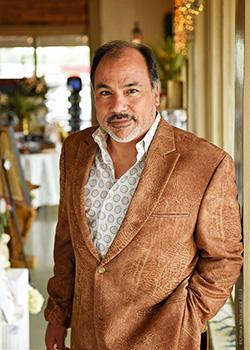 Martin Garcia opened Gramercy Gift Gallery in 2018, in the bustling city of San Antonio, T.X., with the vision to fill a gap in his community. As a minority-owned business, Gramercy Gift Gallery brings unique gifts, art, decor and novelties to a community that continues to expand, grow and attract retail chains. And while the growth is rapid in the area, small businesses and independent shops are still scarce.
He set out to be a pillar of his community and hosting local charity events at his store allowed him to do just that. He says, "It's a win for the charities, it's a win for my business, and most of all, it's a win for the community. Investments in small businesses are direct investments in local communities."
However, the COVID-19 pandemic forced Martin to close his shop for two months in 2020. Since then, foot traffic has significantly decreased, causing a 40% reduction in revenue. But his positive mindset keeps him going.
He says, "The pandemic-related uncertainty continues to thrive on, but my store is faring better now compared to last year. As an active member of my community, I can tell you that many local businesses and entrepreneurs are trying to proceed with their lives and support each other as much as possible. The resurgence of COVID-19 cases is dampening recovery, but I'm confident that we will continue to rebound."
In fact, Martin is one of the countless small business owners who are struggling to rebound from the pandemic compared to larger businesses, and rent is one of the biggest challenges for small businesses. Our recent survey revealed that a majority of microbusinesses (78%) are struggling with their rent, and a commercial rent crisis may be on the horizon. He shares, "My business would greatly benefit from a commercial rent assistance program similar to the one offered to individuals who rent houses or apartments. But unfortunately, that isn't the case."
Martin sought financial assistance from federal relief programs. He received two small loans from the Paycheck Protection Program, and a few grants in the form of radio advertising and technological assistance. He adds that the process to apply has been turbulent from the beginning—a bit of a "catch-22." He sought funding from his personal lines of credit to get capital on his own to keep his business running, which lowered his credit score in the end. Now, he's unable to access critical funding from the Economic Injury Disaster Loan program and is unsure about the future.
"I haven't received the financial resources to get the store back to some sense of normalcy and am awaiting a response from the Small Business Administration. I've appealed their latest loan denial, but who knows how long it will take for me to receive a final decision," he says.
While he waits for a response, Martin is adapting his business to new consumer habits brought on by the pandemic, and is now offering online shopping capabilities, delivery and in-store pickup for his customers. His mantra is to "stay persistent, have patience, and stay perseverant until you prevail."