California Small Business Summit Offered New Resources to Local Entrepreneurs
Thursday, February 21, 2019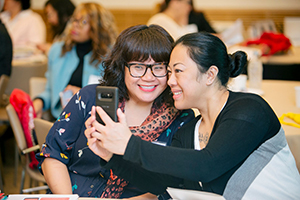 Kristine de la Cruz (left) and a fellow small business owner snap a selfie.
In 2015, Kristine de la Cruz, owner of Crème Caramel LA and co-owner of Frankie Lucy Bakeshop in Los Angeles, traveled to Washington D.C., to participate in one of Small Business Majority's policy-focused events. Four years later de la Cruz joined us again–a little closer to home–for the "California Small Business Summit: Building Local Economies" to learn how she can expand her businesses. She wasn't disappointed.
"My takeaway from these events is always that every panel has something new that I'm able to take [back to my businesses]," de la Cruz said. 
De la Cruz was one of 60 Southern California small business owners who attended the sold out Jan. 30 Summit in Los Angeles, which gave entrepreneurs a platform for meaningful dialogue on issues facing California's small business community, as well as the opportunity to learn how to grow their businesses through educational workshops on important issues like lending, healthcare and retirement.
For the first panel of the morning, "Starting and Building Your Business," Small Business Majority Southern California Outreach Manager Claudia Moreno moderated a roundtable discussion featuring Veronica Corona of CM Cleaning Solutions, Kimberly Kelly-Rolfe, a professor at the University of Southern California, and Remy Meraz, founder of Me Tyme Network. During the conversation, Corona discussed the importance of professional networks.
"There is nothing like face to face [interaction] because that's really how you develop relationships," she said.
The next workshop was a presentation on "Resources for Women Entrepreneurs." Representatives from the Women's Collaborative Mentoring Program, Wurwand Foundation and Hispanas Organized for Political Equality (HOPE) spoke about tools women business owners can use to overcome obstacles. Gail Lara from the Women's Collaborative Mentoring Program talked about how women entrepreneurs often struggle to evaluate their worth.
"It's time for women to embrace their worth. Because women are not used to getting paid for what we do, we aren't asking fully for what we are worth. We need to start looking at our time as value and we need to start charging what we are worth. That's going to be the game changer," she said.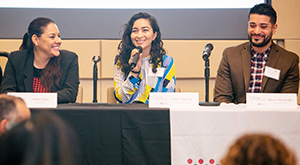 Los Angeles small business owner Kateri Gutierrez offers advice on accessing capital. 
Afterward, Richard Pallay of the Los Angeles Economic and Workforce Development Department moderated a lively discussion with representatives from  Small Business Finance CDC,  Opportunity Fund, Camino Financial and Kateri Gutierrez, co-owner of Collective Avenue Coffee, on how to use Small Business Majority's lending resource platform, Venturize, to find tools to help fund your small business. During this discussion, Yvette Salas of Camino Financial praised Small Business Majority's offerings.
"Sniffing out the bad apples is what Small Business Majority is all about—do they have aggressive sales tactics or are they being vague about the terms of a loan? It's scary, remain cautious and if you see an alternative lender that works withSmall Business Majority they probably have little to hide," she said.
During lunch, Small Business Majority California Director Mark Herbert moderated a panel on "Public-Private Partnerships to Support Small Businesses." Jonathan Herrera, CalSavers Outreach and Marketing Manager, explained the positives of CalSavers, which is a voluntary workplace retirement savings program that allows California small business employees to make payroll contributions into a personal retirement account.
Also during this panel, Sonya Blake from the Mayor's Office of Economic Development discussed how Mayor Eric Garcetti's office supports entrepreneurs in Los Angeles.
After lunch, Peña conducted a panel called "Hiring and Keeping Your Employees." Three experts on the subject, Andrew McDowell, owner of With Love Market and Café, and representatives from Bet Tzedek Legal Services and JLM Strategic Partners, used their first-hand experiences to give advice to small business owners in attendance about the shifting job market and how to choose whom to invest their time and resources in training.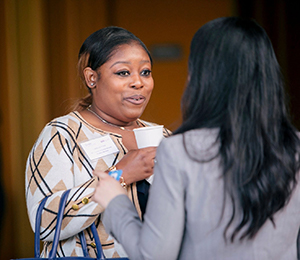 Los Angeles entrepreneur Latanza Price networks between presentations. 
For the final panel, Herbert led a discussion on small business advocacy. Adam Rochon, owner of Sequoia Employee Benefits and Insurance Solutions in Exeter, Calif., and a Small Business Majority Small Business Council member, discussed how being a policy advocate helped his small business grow.
"I've really enjoyed the opportunity to share [my] voice with legislators and the media. To say, 'look, I really am a small business owner and I represent other small business owners, and this is what they are saying,'" Rochon said.
For the final presentation of the Summit, Roberto Martinez, National Speaker and Digital Coach for Google, gave a presentation about how small business owners can better reach their consumers using online marketing, search engine optimization and Google Analytics.
After the event, small business owners said they gained useful connections and learned about new resources to help their business thrive.
"The resources being provided right now are extraordinary," said Latanza Price, owner of Priceless Moments.
If you missed the California Small Business Summit, you didn't miss out on the resources we have to offer. Small business owners and aspiring entrepreneurs can access our resources any time at smallbusinessmajoriy.org and venturize.org.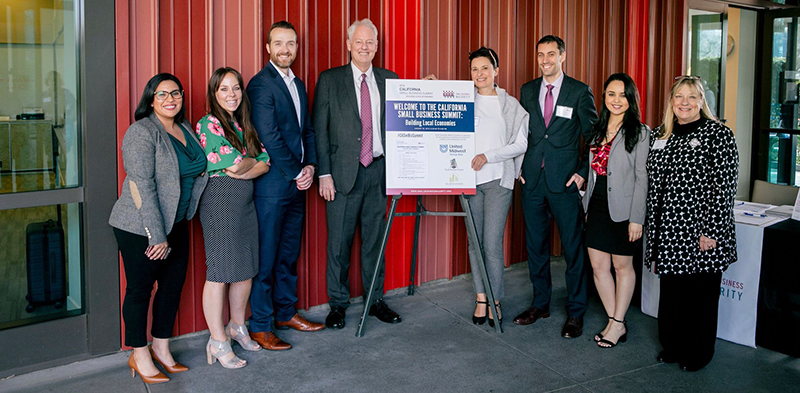 Left to right: Small Business Majority's Xiomara Peña, Bianca Blomquist, Mark Herbert, John Arensmeyer, Eszter Szocska, David Chase, Claudia Moreno and Kathy Berry