State loan fund provides a lifeline for small business owner in California
Thursday, February 18, 2021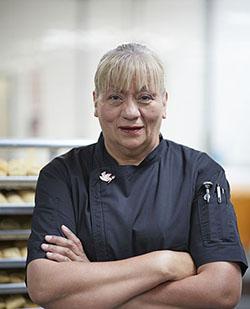 When Alicia Villanueva moved to California in the early 2000s, she discovered the ways in which she could learn about different cultures through their native cuisines. And as someone who loves to cook and share her own culture, she worked for many years with her family to turn her passion into a real business. Today, Alicia is the proud owner of Alicia's Tamales Los Mayas, a catering company and food processor facility located in Hayward, Calif.
Alicia's journey to entrepreneurship has been nothing short of amazing. She would make tamales with her family after working a nine-to-five job, and together, they would sell them door-to-door. But she knew this wasn't a sustainable way for her to grow her business. She explains, "My husband kept telling me I was losing more money than earning until one day, I came across a pamphlet with information about The Women's Initiative, where she learned about La Cocina's incubator program. I took it as a sign, and reached out."
The program helped her formalize her venture and turn it into a profitable, large-scale operation where she's now able to employ many others. Prior to the pandemic, Alicia and her team of 20—including her husband Pedro, her son Pedro Jr. and herself—were producing an average of 40,000 tamales a month.
She shares, "It's a blessing to have my business and to have my family's support during this difficult time. The pandemic put us back to square one. We began selling tamales door-to-door again, but this time we were going to retailers and markets in search of new clientele. Business as usual wouldn't cut it anymore."
Her business was down by 95% at the height of the pandemic last year, so she mobilized quickly and applied to both the federal Paycheck Protection Progra
m (PPP) and Economic Injury Disaster Loans (EIDL) program to help sustain her business. The emergency funding allowed her to keep her employees on payroll, but the financing wasn't enough to cover much more than that. She grappled with how to maintain the rest of her business expenses without additional financial assistance.
Alicia shares, "By the end of last year, I was all out of options. It was then when I learned about the new California Rebuilding Fund. I applied through a participating lender, Pacific Community Ventures, and was one of the first 1,000 small businesses in the state to receive a loan. The loan came at a crucial time for us, and we used the funds for payroll, invested a portion back into the business, and reached new clients."
Through a public-private partnership, the California Rebuilding Fund is helping to fill the financing gap for marginalized small businesses by providing access to business support and flexible and affordable credit to eligible businesses across the state. Small Business Majority, alongside other members of the California Small Enterprise Task Force, worked diligently to bring the Fund to life and ensure it supports vulnerable small businesses.
For Alicia, this funding has helped enable her to innovate and change her business. She's expanded her business reach and is now catering to 40 new boutique markets in the Bay area thanks to the latest funding she received from the California Rebuilding Fund.
State and local programs such as the California Rebuilding Fund are vital to the survival of small businesses. To learn more about the program and see if your business is eligible, visit Connect2Capital.