Small business owner grapples with business changing through the pandemic
Friday, May 13, 2022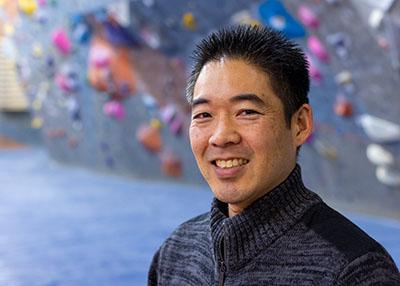 Former finance professional Howard Konishi always dreamed of owning his own gym and making a difference in his community. After turning 30, Howard finally decided to trade his suit and tie for climbing shoes and a harness full time.
The rock climber put his degree in economics to good use and started doing market research on where to open Top Out Climbing Gym. Finally, he decided on Santa Clarita, a smaller city north of Los Angeles, without a rock climbing facility.
Now, nine years and a pandemic later, Top Out is more important to Howard and his community than ever. Howard explains, "People may think they are coming in here for a climbing lesson and end up leaving having found a lifelong passion."
Howard loves helping people discover a passion for rock climbing and having to shut down his business multiple times in 2020 was devastating for him. Fortunately, he was able to receive two forgivable Paycheck Protection Program (PPP) loans to pay his staff of 24, but indoor rock climbing isn't exactly something you can have people do virtually. Nonetheless, Howard hosted virtual activity hours for kids who would normally come to the gym after school, just to keep them active.
During the pandemic, Howard also joined with other gyms across California to establish the California Indoor Climbing Coalition, which created a community among this niche of business owners that didn't exist pre-pandemic. Howards shares that this group was not only a great way to find resources during the pandemic, but it was also extremely therapeutic to talk to other people who were going through the exact same thing he was.
Now that restrictions are lifted, business is getting back to normal at Top Out. Howard has put his staff through training on how to de-escalate aggressive situations surrounding masking and other COVID-19 safety measures and is continuing to give back to his community. He donates free climbing passes to schools and organizations in the area and has been hosting events at his facility for vendors. He wants to get as many people involved as possible.
Howards admits, "My new favorite pastime is to just walk around the gym and watch people as they discover their passion for rock climbing the same way I did so many years ago."
While small business owners across the country have been struggling to fill open positions, Howard has a full staff and more applications coming his way every day. He feels grateful to have so many people interested in joining his team and credits the influx of applications with people's craving to be active in their work after more than two years of living through the pandemic.
The entrepreneur explains, "We have the ability to change people's lives here, and people want to be a part of that."
Howard admits that his business is in a very different place than it was before the pandemic. Despite receiving both government and state funding, shutting down his business during lockdowns seriously impacted his bottom line.
He advises his fellow small business owners, "Do your research and get support from people who are in the same place as you. It's important to talk to people who are going through the same thing you are."