Martial arts trainer patiently waits to re-open safely
Wednesday, August 26, 2020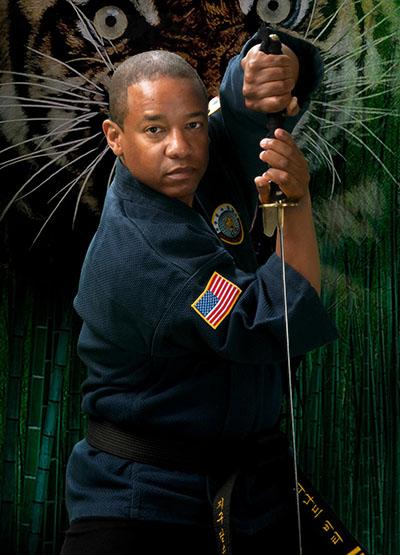 Master Renard Beaty is not only a 5th-degree black belt, but he is also the owner of Kick Start Martial Arts, winner of the 2017 Wells Fargo's Neighborhood Renovation Program grand prize and recipient of the 2019 Best of Atlanta Award in the Martial Arts School category. Despite his awards and popularity in his community, his small business is struggling just like everyone else's.
Master Beaty, who started his career as a corporate trainer teaching leadership skills, decided to bring his expertise to the young people of Atlanta in 2007. Since then, Kick Start Martial Arts has truly become a part of the Grant Park community serving as a space not only for kids to learn martial arts, but also a place for them to learn valuable lessons in teamwork, leadership and giving back.
Master Beaty says, "Our kids will grow up to be the leaders of tomorrow. When I am an old man in my rocking chair, I can be content knowing the world is a better place because of these kids."
Over the years, Master Beaty has facilitated free classes for underprivileged kids, self-defense classes for women, backpack drives to collect supplies for local students, and donations to get school teachers the supplies they need to run their classrooms all out of his small business.
It's important for him to give back to the community because he believes that without his community, he wouldn't have his business. He explains, "There is no such thing as 'I did it by myself.' We all stand on the shoulders of the people who came before us."
However, since the start of the pandemic, his studio has been closed to his 140 members. He has made sure to stay in constant contact so he knows how comfortable everyone would be about reopening. A few months ago, he sent around a survey to gauge how his membership was feeling; their answers assured him he shouldn't open until the CDC gave guidelines to safely re-open.
In the meantime, Master Beaty has been holding online classes over Zoom and very limited in-person classes for his membership, but it has not been enough to keep people from canceling their memberships. He has already lost 20 members, but he says, "I don't blame them because everyone is having a hard time. It is just a tough pill to swallow since things were going so well, and there was nothing I could do to stop this."
Master Beaty was able to access a PPP loan, which he says should last him about eight months—as long as he doesn't lose any more members.
For Master Beaty, the safety and wellbeing of his students and the peace of mind of their parents is paramount. He will not fully reopen until he can guarantee their safety, which is why he says, "I feel like I'm caught in a riptide. If you try to fight a riptide, you drown. That's what opening prematurely will do. I'm better off taking small actions to open that are right for both my business and customers."
Small Business Majority is sharing stories like Master Beaty's to educate policymakers about what small business owners need in order to survive this crisis. Help us spread the word that policymakers need to do more to support business owners in order for our economy to recover by sharing your story or signing our letter to Congress.