Los Angeles entrepreneur highlights mental healthcare providers as essential workers
Wednesday, May 19, 2021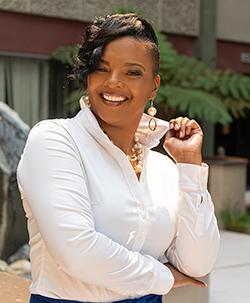 California small business owner Dr. Wendy Talley and her team are redefining "essential worker" with their much-needed support services throughout the pandemic. 
With unprecedented times come great amounts of uncertainty and mental stress. Not only are we reckoning with a devastating public health crisis, but we are also still adapting to a new normal that can be isolating and overwhelming. It's no wonder Dr. Talleys waiting list at Thelese Consulting Group is longer than ever before. 
Dr. Talley, a licensed clinical social worker and therapist with more than 20 years of experience, has run her own mental health practice for six years helping individuals, couples, families and corporate entities prioritize mental health. However, the pandemic has posed a new set of challenges for her clients and her staff. 
During this time, Dr. Talley and her clinicians are particularly focused on helping patients manage their stress, anxiety and depression, as well as helping couples deal with parenting issues as they navigate working from home and virtual schooling. 
But it is not only her current client list that Dr. Talley wants to support, she is now working to spread awareness about the importance of mental health services, particularly in communities of color, and get funding to expand into communities of color in other states.
She says, "There are so many health disparities in marginalized communities, and I want to help provide something that is very rare, but much needed, which is a mental health staff that looks like them and speaks their language so they feel comfortable."
Many are struggling with the effects of the pandemic, from communities that have been historically left out of mental health discussions to mental health professionals themselves who are feeling burned out.
Dr. Talley explains, "I think people forget that clinicians and therapists are human too. We're trying to figure out the answers and process what is going on just like everyone else."
While many of Dr. Talley's clinicians are enjoying doing their work remotely, Dr. Talley worries about the difficulty of creating a work-life balance when you are working from home. Afterall, work-life balance is the reason Dr. Talley started her business in the first place. 
She says, "I wanted the freedom to make my own schedule, spend time with my family, and be able to support my son. If I feel that there is something important for me to do, I should be able to take the time I need without explanation."
While Dr. Talley always takes the time to make sure her own employees are well, she also works with corporate entities to do the same. Over the course of the pandemic, she has held 25 corporate training sessions to help businesses restructure their environment so that they are mindful of their employees' needs and are promoting mental wellness.
Dr. Talley explains, "I live by this motto to always be intentional and non-negotiable. That's how I would advise any entrepreneur. Be intentional about what you want and be non-negotiable about your dreams. That is how you need to be to succeed as an entrepreneur."