Latino business owner expands his social enterprise to increase access to nutritional meals
Wednesday, October 20, 2021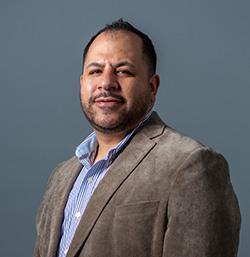 Owning a small business can be challenging if you don't have access to resources and tools to help you understand and manage the operational side of your business. For Javier Haro, this came at a high cost when his short debut as a restaurant owner came to a screeching halt after shutting down his business when the 2009 economic downturn hit the market.
He shares, "I took some time to reflect on my experience as a business owner, and realized that I lacked the knowledge and expertise on how to run a business. I felt defeated, but I also looked for new opportunities amid the defeat, and got certified in Restaurant Management through the National Restaurant Association. I opened Food He.Ro in 2014, a Latino-led social enterprise culinary school, to empower food entrepreneurs and those interested in breaking into the food industry to learn the nuts and bolts of operating a successful business."
Since then, Javier has managed to reach his local community of Chicago, consulting restaurants and food-related businesses, and working with local organizations and chambers of commerce throughout the city to bring much needed support to the small business ecosystem. In a way, he created the support he lacked when he first became an entrepreneur–and from that point on, he's made great strides to help entrepreneurs like himself.
Much like the rest of the country, Javier's enterprise was severely impacted by the COVID-19 pandemic, which forced him to pause training and in-person classes.
He shares, "The pandemic exacerbated a largely unaddressed topic in our area: individuals suffering from food insecurity and those who lacked access to nutritious food, and now people were losing their jobs due to the pandemic. Together with culinary instructors, professional chefs and leaders in the food industry, we launched Cocina RX–a firm that helps individuals in under-served neighborhoods gain access to healthy foods by preparing nutritional to-go meals ready for pick-up or delivery."
Cocina RX delivered more than 28,000 meals to individuals in 2020, and though it currently primarily supports underserved communities of color, his goal is to scale up to serve communities of all backgrounds and ethnicities.
Javier shares that from an early age, he observed his parents as entrepreneurs and learned that flexibility was key to maintaining a successful business. His parents owned microbusinesses in Mexico, and when their products and services no longer fulfilled the market demands, they'd quickly pivot to fit the market needs.
He explains, "I'm in a position now where I can give back to my community, and I'm confident that through entrepreneurship, I too can support the journeys of other entrepreneurs and help them achieve their goals. The pandemic has changed the business landscape for many, and now it's time to implement technology and other tools they may not be familiar with–but that's just entrepreneurship."
As a problem-solver at heart, Javier has worked hard to set his business in line to meet the current demand and focus on healthy eating. He advises fellow business owners to "seek opportunities amid the chaos. Consider adapting your products and services to fit the new demands in the marketplace. If you're starting a new business in the food industry or are thinking about changing your business plan, I invite you to consider Food He.Ro."