IT wizard and career coach adapts her firm to help other small businesses
Wednesday, August 12, 2020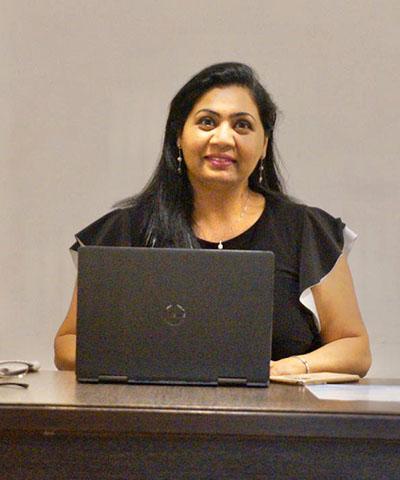 A native Indian living in Johns Creek, Georgia, Preeti Tanwar has mastered the art of resilience through her IT firm HiEd Success. Passionate about her work and helping others, Preeti launched her business in 2017 with the sole purpose of providing cost-effective, customized solutions and services to higher education institutions and educational technology companies with a focus in process automation and analytics.
Aside from managing her enterprise, Preeti is also a career coach who trains first-generation college students and women reentering the workforce to help them navigate the ever-changing landscape of technology. She explains, "I'm on a mission to empower youth and women through my initiatives and help them build their professional profile and self esteem by mentoring and coaching them. I connect them with opportunities and promote their talent to help them grow professionally."
Over the last three years, HiEd Success has expanded their staff and secured some big-name clients, and Preeti had envisioned expanding further in 2020. However, the spread of COVID-19 has dampened Preeti's plans and forced her to rethink her business. She pivoted her business to serve non-colleges, such as independent consultants, small businesses, and startups. She believes she will weather the pandemic by working collaboratively with her new clientele.
Preeti also applied for and received a Paycheck Protection Program (PPP) loan and an Emergency Injury Disaster Loan (EIDL) to support her business. She believes the application process was straight forward, but says it's been difficult to connect with the Small Business Administration's representatives. She was grateful for the EIDL and PPP loan but this funding only sustained her for a limited amount of time, as it was based on her 2019 Q1 revenues and her team has expanded since then. She shares that she would greatly benefit from additional assistance.
During this difficult time, Preeti was forced to forgo her salary for two months to cut expenses and maximize her current resources to keep her business afloat and her employees on board. "Some of my contracts have paused indefinitely, and some clients have delayed payments all together. Without additional funding, I'll be faced with some tough decisions. I'm hoping higher education institutions will open up opportunities to work with small businesses like mine, rather than going with large vendors."
Preeti is not alone. With Congress still debating what a future relief package will look like, most small business owners are hoping for a second round of funding. In a recent network survey, Small Business Majority found that 8 in 10 small business owners would consider applying for a second Paycheck Protection Program (PPP) loan if given the opportunity. Meanwhile, 1 in 4 small business owners said they won't make it past the next three months without additional funding. As negotiations continue to drag on, more entrepreneurs are left hanging by a thread with no solution in sight.
While her situation continues to change from day to day, Preeti advises fellow entrepreneurs to persevere.
"Although times are tough, we've got to see the glass half-full and have a mindset of abundance. We have to think about ways to keep our head above the water in these tough times."
Small Business Majority is sharing stories like Preeti's to educate policymakers about what small business owners need in order to survive this crisis. Help us spread the word that policymakers need to do more to support business owners in order for our economy to recover by sharing your story or signing our letter to Congress.