Even with emergency loan funding in hand, Florida small business isn't able to operate at full speed
Tuesday, May 26, 2020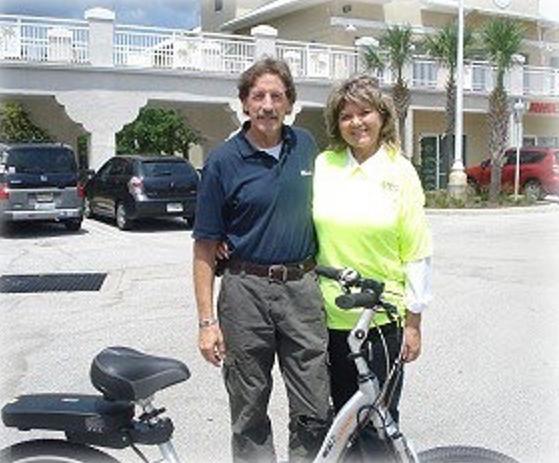 Mark and TJ Goettsch started their business during the Great Recession, so this couple knows a little something about running a business through times of financial crisis. However, when COVID-19 hit, it impacted their business and thousands of others across the country in completely unprecedented ways. 
Since 2010, Mark and TJ have been Flagger County, Florida's only all-electric bike supplier, a business that was born when a knee injury prevented TJ from engaging in her favorite sport—cycling. The couple believed electric bikes to be the perfect tool in making biking more accessible to elderly and injured members of their community, so they started Rider Performance. Thanks to Mark and TJ, people of all ages and backgrounds have discovered the many advantages of the e-bike revolution because all of their bikes can either be pedaled manually or with the help of the bikes' electric drive system. 
The self-proclaimed "born again entrepreneurs" previously had a successful business, creating Flagler County's first motorcycle rider training school, but they sold the school in 2006 and both went back to work at larger companies. Two years later, they reignited their 2-wheel passion, this time with electric pedal-assisted bicycles. 
They built Rider Performance from the ground up by taking baby steps towards their ultimate goal of owning their own shop. It started with local workshops, demo rides and online sales. As the market grew, Mark and TJ were able to open a  brick and mortar store. Now, after years of running a thriving business, they find themselves taking baby steps once more. Although deemed an essential business, the couple felt it was appropriate to close their shop on the last day of March due to the shop's small size and lack of available sanitizing products, leaving the two unsure of when or if they could open their doors again.
However, Rider Performance was one of the lucky small businesses to receive a second-round Paycheck Protection Program (PPP) loan and an Emergency Injury Disaster Loan (EIDL). The loans are helping them get by until they can fully re-open, so Mark and TJ are feeling a bit more secure for the time being. 
Mark explains, "We want and need to be open, but we also want to make sure we're doing everything we can to be safe about it. We are not going to risk the health of our customers for money. We now have a system in place to make sure everything goes well."
As stay at home orders have started to lift in Florida, Mark and TJ have transitioned into a "by appointment only" business model for their shop allowing them to thoroughly clean the shop between each appointment and requiring that face masks be worn in the store.
But Mark and TJ note this business model won't be sustainable. They explain, "Our core stock of electric bikes was largely depleted in the first three weeks of reopening. However, as our vendors have struggled to get production back up to speed, many of our orders for fresh stock have been pushed to mid to late summer. With limited stock to sell, we could be in trouble by June or July. "
With millions of Americans stuck at home desperately looking for safe ways to stay active, electric bikes could be a promising solution for members of the Palm Coast community, and TJ and Mark are committed to doing what they can to serve clients looking to work off some excess energy safely.
But, the small business owners that provide these types of community solutions are still unsure of what the future has to hold for their businesses. Mark says, "Small businesses like ours are the foundation of this country. Without companies like ours, the U.S. will not continue to prosper. It is vital that smaller businesses have access to funding and assistance, as we do not have financial advantages that larger, more established companies may enjoy."