Despite setbacks from COVID-19, immigrant small business owner continues to chase opportunities for her business and community
Friday, May 29, 2020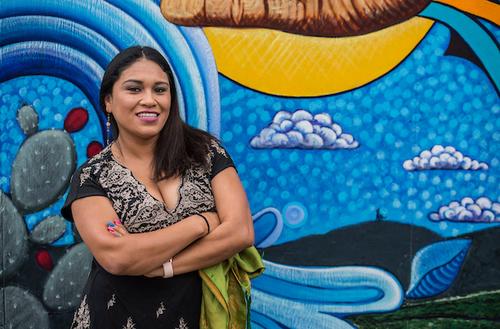 As a first-generation immigrant, Anahi Rojas knows a thing or two about chasing opportunities.
Anahi, owner of Professional Eco Cleaning in Oakland, Calif., moved to the United States 13 years ago to seek new economic opportunities and improve her life and that of her family in Mexico. Initially, she worked as a waitress but soon realized the language barrier would be a problem. She pursued other avenues and became a partner at in house cleaning cooperatives where she learned how to manage a business, and developed her conflict resolution strategies.
She says, "Opportunities for minorities are scarce. It's difficult to know where to find them. When you come to the United States as an immigrant, you're told you don't have options and you can't own a business."
After five years of working with cooperatives, Anahi decided to open her own small business with cooperative values in 2017. "My purpose is to support immigrant, Latino women to be in positions of leadership so they can grow professionally," says Anahi.
During her first years as a business owner, her business grew by an average of 185% annually and Anahi aimed to expand her business even more in 2020. She acquired a loan early this year to rent an office space and hire more staff.
She explains, "For us, 2020 was going to be our year of expansion! In February, I hired an Operations Manager and also hired another member to create a third team of cleaners. But due to the pandemic, my clients began to cancel services in March and halfway through the month I had to close shop." She moved quickly and applied for relief loans with Kiva, a nonprofit that connects low-income entrepreneurs with online lenders. This loan allowed her to pay her six employees for a month, but after the funds ran out she was back to square one.
Anahi continued to explore other options and applied for both Paycheck Protection Program (PPP) and Economic Injury Disaster Relief (EIDL) loans—a process that took nearly a month. Anahi says,"The application process was complicated and frustrating. It felt like a mockery to small business owners."
She sought out guidance from her community to fill out the forms and was able to secure financial assistance. However, the loan relief would not cover her two newest employees due to the loan guidelines in place. Despite this challenge, Anahi persevered and enrolled in free college classes for small business owners during the COVID-19 crisis. In a contest organized by Berkeley University, her project won second place and was awarded with a one-year business plan to sell her own line of cleaning products while she navigates the current crisis.
Three months after she first closed her business and out of capital once again, Anahi made the decision to reopen her doors. Her employees are working voluntarily and taking the necessary precautions to prevent them from getting sick and spreading the disease. She explains, "We don't have any resources left. It's been a slow return to work as only 10% of my clients have returned. Now I have been hit with a worker's compensation audit and I owe $18,000."
Still, Anahi continues to have a positive mindset. "In school, they teach us to manage organizations, to work for other people and to follow orders. But they don't teach you to be an entrepreneur. Yes, COVID-19 is affecting us but we are entrepreneurs and we have the capacity and resilience to keep fighting. This is the time to come together and to support each other to come back even stronger than before."
Anahi Rojas is working with small business advocacy organizations such as Small Business Majority and Prospera to provide support for entrepreneurs and small business owners like herself. Join the list of small business owners and advocates from across the country that have signed this letter to urge our Members of Congress to support Main Street during and after this crisis.