Celebrating black entrepreneurship with resources and tips from small business experts
Tuesday, February 25, 2020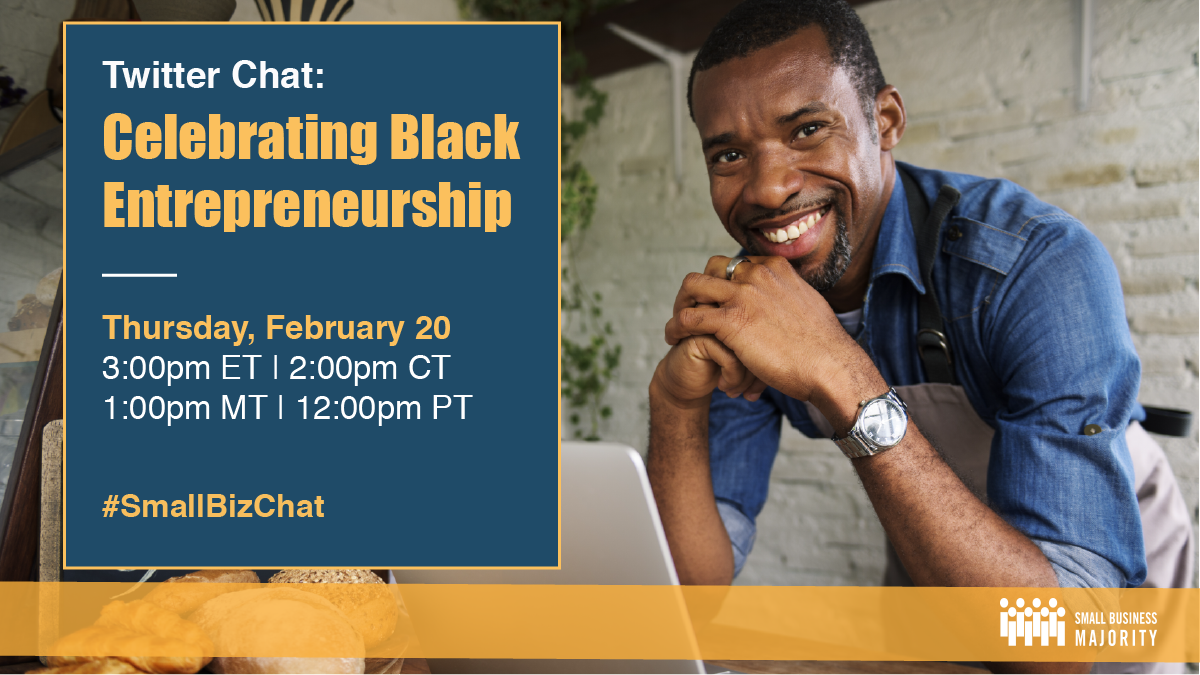 In celebration of Black History Month, we hosted a Twitter chat during which we asked partners like Accion, CAMEO, Working Solutions, Illinois SBDC and Main Street Launch to share resources and advice with black small business owners and entrepreneurs.
Below is a brief recap of the questions and a sample of the great tips and information shared during the chat. For more resources and advice, visit our online portal Venturize.org.
Q1: Why is it important to recognize the contributions of black entrepreneurship? #SmallBizChat
Project Equity @projectequity
Black-owned businesses are one avenue to wealth creation. However, the institutional barriers, historic and present, provide major obstacles. We desperately need to open opportunities in order to reduce the wealth gap and live up to the democracy we aspire to.
Main Street Launch @MainStLaunch
There have been limited attempts to support Black-owned businesses and rectify the injustices they've been subjected to. Today, 2.58 million Black-owned businesses generate $150 billion of annual revenue in the US.
Black business owners have 12x the median wealth of Black non-business owners. Entrepreneurship is a pathway to narrowing the racial wealth gap and fostering community wellbeing.
Q2: What are some key things people should know about starting their own business? #SmallBizChat
Accion @AccionUs
One great place to start is by connecting with local organizations that can help point you in the right direction. @ScoreMentors and @ASBDC are two organizations nationally that help entrepreneurs start or grow their businesses with access to free coaching and workshops.
Working Solutions @ws_microloans
Don't be afraid to ask for help. Every conversation can lead to a new connection or opportunity. Look for resources in your community—nonprofit partners like @CAMEOMicro, faith-based groups, government—many options available to entrepreneurs.
Q3: What obstacles/barriers do black entrepreneurs face? #SmallBizChat
CAMEO @CAMEOMicro
Black entrepreneurs are more likely to struggle financially than white entrepreneurs, due to a long history of systemic racism. This includes limited access to capital, little or no managerial experience, among other things. Learn more: https://buff.ly/2v4FOXf
Illinois SBDC @IllinoisSBDC
Accessibility to resources and capital are key. Opportunities are on the rise to assist black entrepreneurs so be prepared to take advantage of them! See how SBDCs across the nation helped minority businesses in 2019.
Q4: What can we do to break these barriers down? #SmallBizChat
Working Solutions @ws_microloans
Join networking groups and business associations to fuel creativity, share insights, and meet other Black entrepreneurs. Check out your local Black chamber of commerce and Black professional groups like @NABAInc.
CAMEO @CAMEOMicro
Improve access to capital with targeted efforts that address the specific needs of black entrepreneurs. Fight for regulatory tools that protect black entrepreneurs from predatory products and practices. Learn more: https://buff.ly/2uQNyfD
Q5: What funding options are available, especially for minority-owned businesses? #SmallBizChat
Illinois SBDC @IllinoisSBDC
The State of IL recently awarded $15M in grant funding to minority-owned small businesses and more opportunities are coming. Visit an SBDC to work on your business plan and proposals now to be ready for opportunities in your community! http://tiny.cc/c2eakz
Venturize @VenturizeOrg
It can be difficult for minority business owners to secure capital from traditional lenders. Fortunately, there are plenty of alternative lending options like crowdfunding, angel investors, SBA loans and more. Learn about your options: http://ow.ly/UEJX50yrHpX
Q6: What are some of the best resources for starting and growing a business? #SmallBizChat
Main Street Launch @MainStLaunch
We love partner orgs providing business support services! @uptimabootcamp trains our Entrepreneurs-In-Residence (EIRs) and @start_small has excellent resources for entrepreneurs.
Working Solutions @ws_microloans
Visit local economic development groups like @RenCenter_ and Small Business Development Centers (SBDC). They offer small business classes, coaching, and training.
Q7: What is your favorite quote or piece of advice you have heard about black entrepreneurship? #SmallBizChat
Venturize @VenturizeOrg
A year ago @SmlBizMajority asked this Q to @usblackchambers. They said: "Our strongest advice to anyone considering entrepreneurship is: prepare to struggle. Struggle is a natural phase of entrepreneurship." Read more of their advice: http://ow.ly/SbbP50yrHA4
CAMEO @CAMEOMicro
"What I love about being an entrepreneur is there's no ceiling to what opportunities you can create." – Calvin Andrews, owner of @lenassoulfood. Calvin employs young people and returning citizens, and helps his community in other ways. https://buff.ly/2tv6i3d
Working Solutions @ws_microloans
Buy local and with intention—make every dollar count! Support Black-made products and fellow Black entrepreneurs. Check out the Working Solutions Client Directory to support local businesses, including Black-owned and other diverse companies.
Illinois SBDC @IllinoisSBDC
"I had to make my own living and my own opportunity. But I made it! Don't sit down and wait for the opportunities to come. Get up and make them." - Madam C.J. Walker. Dream big and take control of your destiny. Black businesses are vital to communities!