California musician discovers the true power of music during lockdown
Wednesday, September 30, 2020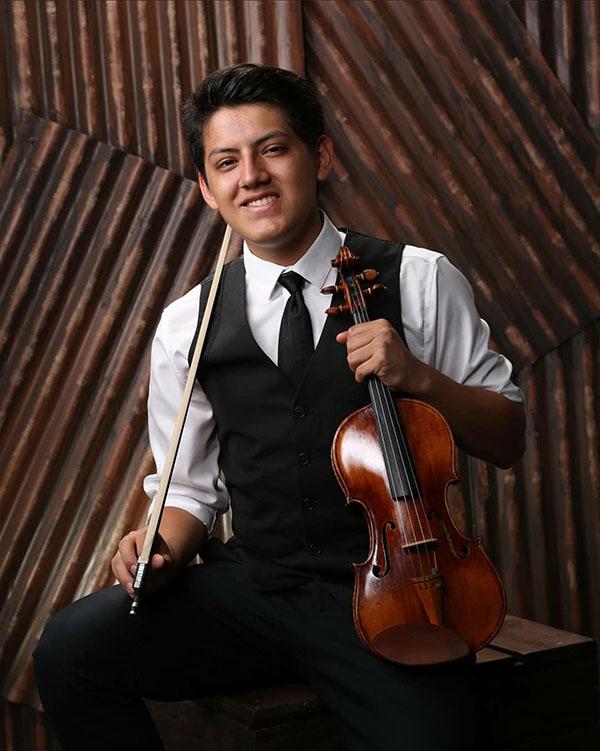 Kiev Morales has been an entrepreneur for most of his life. His product? His music. The 20-year-old violinist has performed all over the world, but these days is having to adapt to virtual audiences and online streaming and only recently began performing outdoors again.
At six years old, Kiev fell in love with the violin the moment he heard hip-hop violinist Josh Vietti play at the Promenade. When he found that his ADHD and Tourette Syndrome made it difficult for him to focus and take lessons through school, he quit for five years only to take up the instrument again with his middle school's orchestra program. Along with classical training and private lessons, Kiev discovered he had the ability to learn music by ear as well as learn physical techniques by observing other musicians. This allowed Kiev to explore genres outside of classical music and really develop his own style.
Kiev explains, "It took me two months to learn my first song by ear, but I didn't mind because it was so exciting to learn every note."
At just 15 years old, Kiev started performing at the Santa Monica Promenade. He would take the money he earned from playing and invest it back into his business by buying new equipment. A few years in, Kiev found a mentor who taught him how to be a better performer and how to sell his music.
When Kiev started work on his first album, he recorded his music from his bedroom, editing it in Logic Pro X and burning disks that he bought at Staples. Once he saw success in selling his music, he decided it was time to make a second album. His father, who is a small business owner himself, encouraged Kiev to continue investing back into his business. So, Kiev rented out studio space and had his next album professionally produced.
The professional production took much more time, but the results were worth Kiev's patience. Two years later, he has sold 4,000 copies. His album allowed him to gain more notoriety and move away from strictly street performing. Before the pandemic, Kiev was the resident performer at one restaurant, Santa Monica Place, El Paseo center in Southgate, The Boulevard Mall in Las Vegas and was invited to perform at all kinds of events, from weddings to concerts at the Staples Center.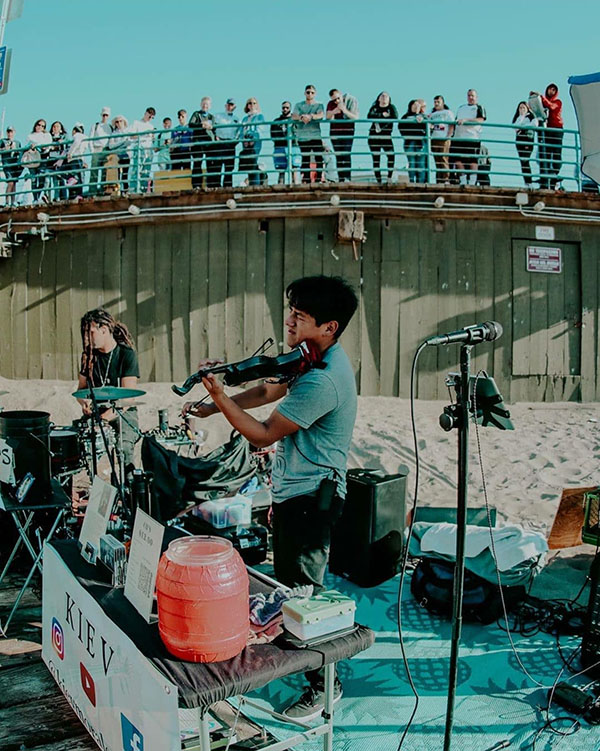 "My main goal is to get my music to as many ears in the world as possible. I could sell my albums for more, but I really just want to reach as many people as I can."
With the world going into lockdown and live events being cancelled, Kiev was forced to return deposits and reschedule events left and right. He had to think quickly about how he would continue to deliver his music.
After two days of unrest, Kiev decided to move his performances online. He invested in new equipment that would allow him to produce videos with quality sound and video and started streaming over Instagram and Facebook.
Kiev says,"I had no idea how large my global audience was before I started doing virtual events. Now I can see people tuning in from all over the world."
The stay-at-home orders, while difficult to come to terms with, allowed Kiev to connect with more people than ever before and to really see how many people his music has touched over the years without any real marketing.
Kiev explains, "To be able to connect with people in an otherwise isolating and unpredictable time has been really special for me and I hope it has been for my audience as well."
Once things start to go back to normal, Kiev hopes to pursue a formalized music education for the first time.