California business owner credits her community's support for her reopening success
Tuesday, July 14, 2020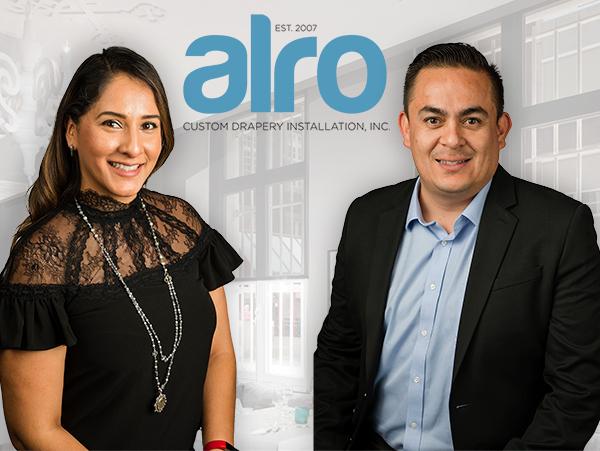 Two heads are better than one, and Mar Y Sol Alvarado and her husband Alfred are a clear example of this adage. As the owners of Alro Window Coverings—an installation service company in Mountain View, Calif.—Alfred brings his entrepreneurial knowledge to the table, matched with Mar's business development experience from working in nonprofit organizations for more than 10 years.
A Latina immigrant from Mexico City, Mar brings her resiliency, tenacity and work ethic wherever she goes. While she worked in the nonprofit sector, she also worked on their family's business part-time.
She explains, "My husband is the expert in the installation trade, and I have ample experience in organizational and business development. I provided more structure to our business by setting up payroll, accounting and managing the day-to-day operations."
Once Mar organized their business' financials, she realized they were making enough revenue to hire more employees and expand their enterprise. She decided to quit her job and joined Alfred full time.
After nearly two years with Mar's undivided attention, their business was thriving until the global pandemic changed the course of their plans. When Mar and Alfred closed their doors in the wake of the pandemic, Mar dedicated her business hours to researching loan opportunities and getting involved in her community's outreach efforts.
She says, "I wanted to stay abreast of the situation and provide resources to our employees. We wanted to ensure our employees' wellbeing by being transparent about our situation, alerting them to rent and food assistance in the area, and even providing technical help."
Thanks to Mar's tireless efforts, the business received a Paycheck Protection Program (PPP) loan, an Emergency Injury Disaster Loan (EIDL), and an EIDL grant in early April. She described the loan application process as intuitive, but also acknowledged that might not be the case for every entrepreneur. She explains, "I don't think local government officials know what it's like to have a small business. Small business owners often lack the necessary documentation to apply for emergency loans, file taxes, etc. They end up getting the shorter end of the deal all the time."
While many small business owners are hesitant to apply for government funds, Mar believes she made the right decision for her business. "The loan is worth saving my business. It was either that or closing down my doors. Once you understand that, then it's an easy decision."
After the stay-at-home order lifted, Mar and Alfred rescheduled most of their appointments and serviced clients who were comfortable with the new distancing measures put in place. She trained their staff about safety protocols, masks and properly cleaning supplies.
Mar believes her business has overcome the worst, and shares her thoughts on her recovery. "I owe part of my reopening success to the organizations that reached out and offered their overwhelming support. Small Business Majority, the U.S. Small Business Administration, and women's organizations offered resources and their expertise every step of the way. It's been very uplifting. Our communities have helped entrepreneurs stay mentally strong during this hard, challenging time."