Jessica Anguiano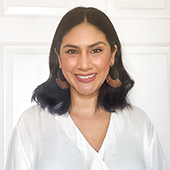 Southern California Senior Outreach Manager & Minority Entrepreneurship Programs Manager
Jessica manages Small Business Majority's outreach efforts in Southern California, leveraging her six years of experience as a business consultant for small business owners. As the Minority Entrepreneurship Programs Manager, she develops educational programming and collaborates across states to identify best practices and programming opportunities for small business owners of color.
Before joining Small Business Majority, she served as the CARES Project Director for two Women's Business Centers, where she played a crucial role in helping entrepreneurs navigate the challenges of the pandemic, and assisting with business plans and social media marketing for startups. Previously, she served in leadership roles for major retail chains, specializing in visual merchandising, store renovations, consumer behavior analysis and vendor management.
Jessica is an active board member at Women Strengthening Women, where she provides resources and promotes entrepreneurial paths to achieve financial independence for women in the region. She also participates in committees sharing insights on small business success. Jessica earned a master's degree in International Business and has taught college-level business and consumer behavior courses. She is fluent in Spanish.
---
Gerente de Alcance Comunitario en el sur de California & Gerente de Programas Empresariales Minoritarias
Jessica administra los esfuerzos de alcance comunitario de Small Business Majority en la región del sur de California, aprovechando sus seis años de experiencia trabajando como consultora de negocios, ayudando a propietarios de pequeñas empresas. Como Gerente de Programas Empresariales Minoritarias, ella desarrolla la programación educativa y colabora en todos los estados para identificar las mejores prácticas y oportunidades de programación para pequeñas empresas minoritarias.
Antes de unirse a Small Business Majority, Jessica se desempeñó como la Directora de Proyectos de CARES en dos Centros de Negocios para Mujeres, donde desempeñó un trabajo vital para ayudar a los empresarios a navegar los desafíos de la pandemia, y asistiendo en el desarrollo de planes de negocio y marketing en redes sociales para startups. Anteriormente, ella trabajó en puestos de liderazgo para grandes cadenas, liderando equipos con mercadeo visual, ayudando con la remodelación de tiendas, analizando reportes de comportamiento del consumidor, y trabajando con proveedores en el extranjero.
Ella es un miembro activo de la junta de Women Strengthening Women, donde brinda recursos y promueve el emprendimiento para lograr la independencia financiera de mujeres en la región. También participa en comités que comparten ideas sobre el éxito de las pequeñas empresas. Jessica obtuvo una maestría en Negocios Internacionales y ha enseñado cursos de nivel universitario en negocios y del comportamiento del consumidor. Jessica también habla Español.
Use this form to contact Jessica: