Jessica Anguiano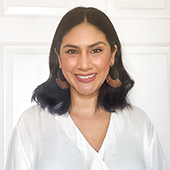 Southern California Outreach Manager
Jessica manages Small Business Majority's outreach efforts in the Southern California region. She brings over five years of experience working as a business consultant to small business owners.

Before Small Business Majority, Jessica served as the Coronavirus Aid, Relief, and Economic Security (CARES) Project Director for two Women's Business Centers, directing the day-to-day operations and overseeing CARES portfolios. In this role, she helped entrepreneurs develop start-up business plans, build social media marketing, and assisted with general business navigation throughout the pandemic. She recently became a board member at Women Strengthening Women, where she will be help provide resources to women in the region and foster a pathway to entrepreneurship and financial independence.

Previously, she worked behind the scenes in big chain retailers, leading teams with visual merchandising, assisting with remodeling stores, analyzing consumer behavior reports, and working with oversea vendors. With a master's degree in International Business and marketing background, Jessica has also taught college-level business and consumer behavior courses. She's also fluent in Spanish.
---
Gerente de Alcance Comunitario en el sur de California
Jessica administra los esfuerzos de alcance comunitario de Small Business Majority en la región del sur de California. Ella tiene más de cinco años de experiencia trabajando como consultora de negocios, ayudando a propietarios de pequeñas empresas.
Antes de unirse a Small Business Majority, Jessica se desempeñó como la Directora de Proyectos de la Ley de Ayuda, Alivio y Seguridad Económica de Coronavirus (CARES por sus siglas en Inglés) en dos Centros de Negocios para Mujeres, dirigiendo las operaciones diarias y supervisando los portafolios de CARES. En este puesto, ella ayudó a propietarios de pequeñas empresas a crear planes comerciales, construir planes de mercadeo en redes sociales, y asistió con la navegación comercial general durante la pandemia. Ella recientemente se convirtió en miembro de la junta de Women Strengthening Women, donde ayudará a proporcionar recursos para las mujeres de la región y fomentará un camino hacia el espíritu empresarial y la independencia financiera.
Anteriormente, ella trabajó en grandes cadenas, liderando equipos con mercadeo visual, ayudando con la remodelación de tiendas, analizando reportes de comportamiento del consumidor, y trabajando con proveedores en el extranjero. Con una Maestría en Negocios Internacionales y experiencia en marketing, Jessica también se desempeñó como profesora, enseñando cursos en negocios y del comportamiento del consumidor a nivel universitario. Jessica también habla Español.
Use this form to contact Jessica: