Jeremy Flick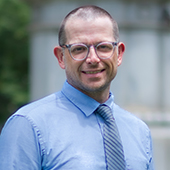 Digital Engagement Manager
As Small Business Majority's Digital Engagement Manager, Jeremy Flick works closely with the small business engagement and digital communications teams to maintain and drive continuous improvements to the organization's small business owner database and direct outreach efforts. He collaborates with team members across the organization to improve digital tools, practices and procedures to ensure a comprehensive digital approach to external small business engagement.
Prior to joining Small Business Majority, Jeremy most recently worked as Director of Digital Marketing and Technology for the Trust for the National Mall, where he oversaw all aspects of the organization's digital marketing efforts with a specific focus on streamlining processes and providing technical and functional support.
With a background in the visual arts, Jeremy also maintains an active studio practice as an artist. His works have been exhibited nationally and his paintings are included in numerous private, corporate and academic collections throughout the U.S. and in Europe.
Use this form to contact Jeremy: