Virginia small business owner advocates for entrepreneurship in her community amid global pandemic
Wednesday, March 24, 2021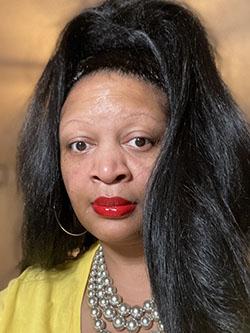 Starting a small business may seem daunting for most people, but for those who take the risk like Tierra Henderson, it's a matter of seeking mentorship and applying yourself.
Before Tierra launched iFinancial by Tierra, LLC, she serviced hospital cafeterias in her area for over a decade but eventually felt that her career had run its course. Though she was hesitant about launching her own business at first, she persevered, sought guidance from business organizations and launched her own firm in 2016. Tierra's business is a financial services consulting firm where she serves as a duly commissioned notary and licensed signing agent in Maryland and Virginia.
She shares, "I didn't have any mentors or anyone who supported me in this decision. But once I launched my firm, I found my voice and felt more empowered. I believe women can become empowered through entrepreneurship and I want to be an advocate for those who might need the extra push."
In her quest to advocate for entrepreneurship for others, Tierra became a volunteer mentor for Junior Achievement, a nonprofit organization that partners with small business owners to mentor children from elementary through high school. She explains, "The program has been incredibly rewarding for me. I love teaching children about entrepreneurship and how they, too, can work towards achieving their dreams."
Tierra also wants to educate others about the barriers entrepreneurs will face during the journey and lessons she's learned along the way. During the early stages of her business, accessing capital was a major challenge for her as a new business owner. She reached out to her local credit union, worked to get her credit in good standing, and in time, applied for a small business loan. Tierra explained that she's found credit unions are often more willing to work with minority business owners than traditional banks, as they understand the struggles entrepreneurs of color encounter with accessing capital.
But as a result of the COVID-19 pandemic, Tierra was at risk of losing everything she's worked for. She decided to apply for an Economic Injury Disaster Loan (EIDL) and to her surprise, was denied the emergency funding based on her credit score.
As a Black and single-member LLC woman, she knows the responsibility and stress that comes with wearing so many hats. She shares, "As I navigate keeping my business afloat through this economic crisis, every dollar matters. I've been operating on thin margins for this past year and simply don't know how to manage it all."
Now that the Paycheck Protection Program (PPP) has changed the rules for sole proprietors, Tierra has submitted her loan application and is awaiting a response. While she continues to fight for her business, she says, "Persistence is key. Even before the pandemic, small business owners struggled to establish and maintain their businesses. We must be persistent and navigate the test and trials to make it to the other side. If we give up halfway, we'll never know how far our businesses could've gone."