Veteran Shares his Journey from Service to Small Business
Wednesday, November 14, 2018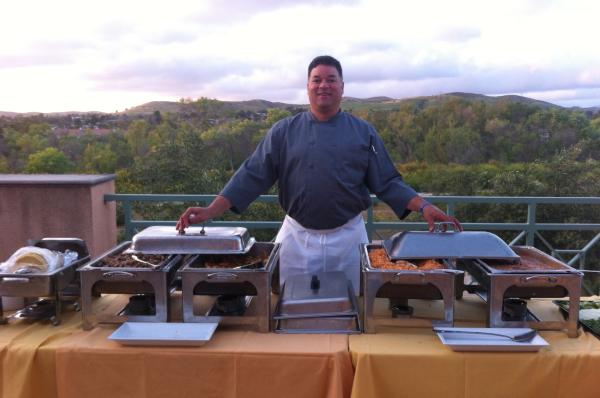 This Veteran's Day, we want you to meet veteran and small business owner Michael Taylor of Michael Taylor Culinary Solutions in San Diego. In honor of his fellow veterans, Michael shares his story with us about how he addressed his struggles with mental health and how his service helped foster his entrepreneurial nature.
Michael returned from service as a U.S. Army Military Policeman in Germany in 1990 as a disabled veteran. Five years after returning, Michael noticed the impact his time in Germany had on his mental health. He was living in Florida at the time, and tried to get his degree, but was finding it difficult to stay on track. Eventually he decided it was time for a change and moved to Chicago.
Michael has had a love for cooking ever since he was young when the best time he got to spend with his mom was while she was making dinner. His love for food was rekindled when he started working as a host at a fine dining French restaurant in Chicago. He spent as much time as he could in the kitchen learning from the chefs when he realized he was finally ready to finish his degree. He entered the accelerated program at Kendall College's School of Hospitality Management, where he earned a bachelor's degree in hospitality in two years. He then immediately went on to complete his master's degree. Once he finished school, Michael became a consultant to struggling restaurants in the greater Chicago area.
Meanwhile, Michael continued to struggle with his mental health. He was diagnosed with anxiety and depression, which was later further diagnosed as post-traumatic stress disorder in 2014. He found it increasingly difficult to get on public transportation and be in large crowds or around loud noises. In 2016, he finally began to get the help he needed when he joined a rehabilitation program in California through the Department of Veterans Affairs.
Michael realized the weather and the military community in San Diego really helped improve his mental health, so he decided to stay after the program ended. With a degree in hospitality in hand, Michael sought out positions as a personal chef by posting an ad on Craigslist and several social media platforms. He saw there weren't many ads offering a similar service but knew there was a market for it. Sure enough, Michael received responses almost immediately for his services. Through his business, Michael connected with high-level clients, including an executive at a vacation home rental agency.

After wooing this particular client, Michael now spends part of the year serving guests who rent vacation homes. This provides him the opportunity to network with new people and gain connections that are useful after the tourist season is over. When Michael isn't in the kitchen, he spends his time at local markets buying fresh ingredients and networking with local farmers, some of whom are fellow veterans.
Michael says his veteran networks and support systems have been essential to starting and growing his own business. He believes that mental health awareness is one of the key issues that needs more attention in the veteran community. As Michael points out, "Veterans have a lot to offer their communities and are natural entrepreneurs, but they need a variety of help and support to pursue their dreams once they become civilians again." To his fellow veterans, Michael says, "Everyone can be a success, and everyone is a success."
After everything he experienced in the service, he says, "I would not trade it for anything. Everything I put into the service was given back to me 10 fold."