Texas small business relies on ingenuity when federal funding falls short
Tuesday, June 9, 2020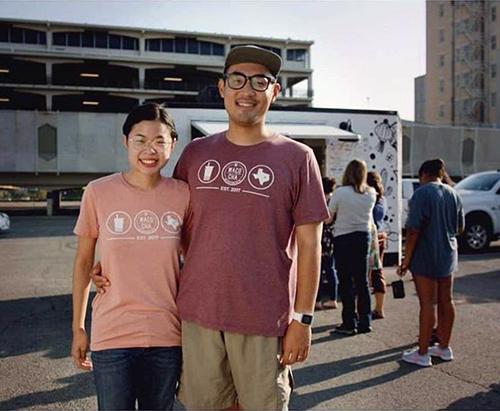 Faced with a lack of diverse food options, Jaja Chen and Devin Li decided to bring a bit of their East Asian heritage to Waco, Texas.
Waco Cha started off as a tent at the Waco Downtown Farmers Market selling boba tea, but within a year they gained so much popularity that Jaja and Devin were able to purchase a truck and expand their reach and their services. Not only were they selling boba out of their truck, but they began hosting "Dumpling Night Workshop," where they teach members of their community how to fold, make and eat dumplings from start to finish.
Jaja explains, "We want to not just share our culture with our neighbors, but to bridge cultural gaps in the community through food and drink."
Earlier this year, the couple made their next big move to open a brick and mortar shop. But, the day the health department approved them to open was the day Waco shut down all restaurants and bars to prevent the spread of COVID-19.
With their grand opening postponed and farmers markets shut down, Jaja and Devin applied for an Emergency Injury Disaster Loan (EIDL) and Paycheck Protection Program (PPP) loan to make up for their loss in profits, but after spending hours on the phone with different banks and SBA representatives, they were left disappointed and confused by conflicting advice and information about their loan applications.
Despite qualifying for EIDL, the SBA couldn't process their direct deposit information, and they have yet to receive their loan. And, after applying for a PPP loan through four banks, they were only approved for a $6,000 loan—despite having been pre-approved for twice as much.
They say, "Many small business owners, like ourselves, have been unable to access the funding that was meant to support us. In addition, the process has been very confusing when it comes to applications, loan forgiveness and what to expect moving forward when it comes to these programs."
The loan they received was not enough to cover their payroll and overhead costs of running their business like paying rent and utilities. So, without much support from the federal government loan relief programs, Jaja and Devin were left to count on the support of their local advocacy groups, their customer base and their own ingenuity to keep their 10 employees employed and their business afloat.
They used their closed storefront and truck to continue making to-go orders and introduced Taiwanese lunch boxes as a new menu item to drive up lunchtime traffic.
As stay at home orders start to lift, Jaja and Devin are finally able to start using their well-earned store front the way they had planned. Waco Cha has started welcoming customers at 25% capacity with social distancing measures in place and Jaja and Devin hope to open at full capacity when it is safe to do so. In the meantime, they will continue to take online orders and frequent farmers markets.
Jaja says, "We could not be where we are today without the continued advocacy and efforts of local organizations. Our team and community are what allowed us to continue pressing forward throughout the pandemic and to continue growing our business even in the midst of all this uncertainty."