Small business owner and advocate uses floral designs to highlight her Native American culture
Friday, May 7, 2021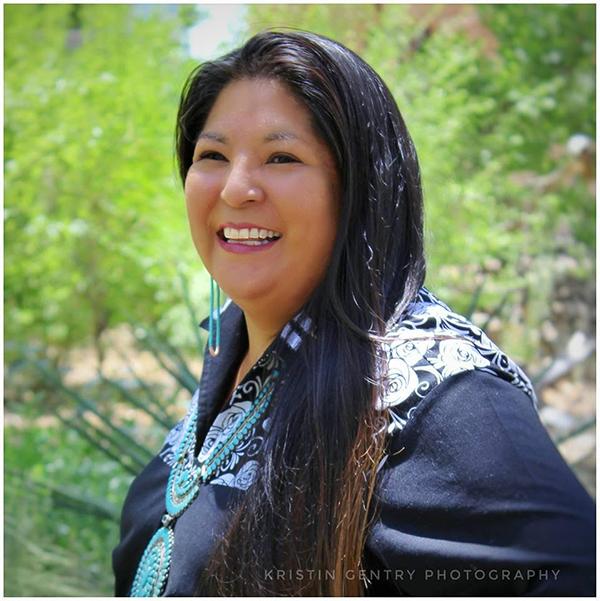 The past year has stretched many households to their broadband limit with kids learning virtually and parents working remotely at the same time, but for rural small business owner Shayai Lucero, this isn't a new challenge.
Shayai, owner of Earth and Sky Floral Designs and Gallery, was born and raised on the reservations of the Pueblos of Acoma and Laguna in the state of New Mexico, and has been an advocate for Native American and rural-owned small businesses ever since opening her floral shop more than 10 years ago.
In early 2008, as the mother of an infant daughter, Shayai was on the hunt for a job that could accommodate motherhood after graduating from the University of New Mexico. At the time, a local florist had put her business up for sale.
Shayai recalls, "I naively thought, 'I could run a business! How hard can it be?'"
It took months for Shayai to raise the funds she needed for the down payment, but by December 2008, she was open for business. The next few months would be a crash course in business management and floral design. As it turned out, she was good at both.
She explains, "My main goal as a floral designer is to Indigenize and educate the floral industry by incorporating Native American Pueblo culture into my floral designs. I hope to make this journey easier for future Native American florists."
But, being a rural and tribal small business owner has its own set of challenges. One of the largest issues Shayai runs into while operating her home-based business is broadband access. Before the pandemic, she would find herself working out of the local casino so that she could guarantee herself a stable Internet connection. Now, there is nowhere to go. Her kids are virtual learning and her husband is virtual teaching and their Internet can't support so many devices at once.
Shayai explains, "I have a fiber optic data line that runs outside my house, but I can't get access to it because there's no infrastructure for the residents of my community."
Broadband access is more important now than ever as many entrepreneurs pivot their businesses to online sales and are looking for new ways to connect with customers and business opportunities. When COVID-19 hit, Shayai had to shut down her business for three months due to public health orders across the reservations that she serves. Instead, she used her time creatively, entering virtual floral design competitions and even applying for a reality TV show.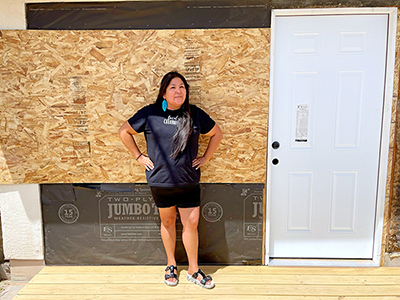 Shayai is using her LISC grant funds to remodel her garage into a floral studio.
The florist explains, "I had to pivot and adapt to make a name for myself and my business virtually. I hope I did everything correctly, but at the very least I can say I am still in business."
Although Shayai had different dreams before becoming a business owner, she now says, "I love my business! Through all the hardships, moves, stress and even a heart attack, I don't think I would choose a different path."
Shayai has been a bold advocate for rural small business needs for years. She has traveled to Washington on behalf of Small Business Majority to speak on Capitol Hill, joined virtual round tables with United States Secretary of the Treasury Janet Yellen and other small business advocates, and spoken with local and national media outlets about small business needs.
She advises her fellow small business owners, "Keep in touch with your congressional leaders. Let them know how bills will help your business and family survive. Native American and rural entrepreneurs are often excluded from the conversations. Each group has different needs from our urban counterparts. Speaking up to express your concerns is important."