Recent grad brings virtual reality to senior living communities during quarantine orders
Thursday, October 22, 2020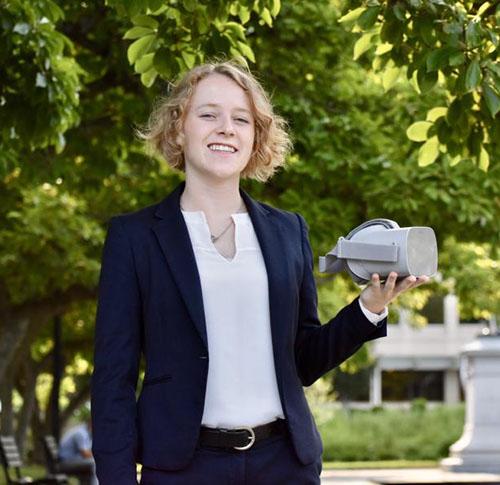 The pandemic has been an isolating time for everyone, but especially for seniors. Fortunately, D.C. entrepreneur Carleigh Berryman had already started testing a solution to engage seniors socially and mentally when the pandemic led to the shutdown of nursing homes and retirement communities across the country.
It all started when Carleigh began to see signs of depression in her own grandmother. Then, she got to thinking about the way our society talks about—or rather neglects to talk about—elder mental health. Carleigh was determined to find support for her grandmother and the millions of others who are suffering from late-life depression. As a business and psychology double major, she realized that there would be a real market for a service that could help seniors increase their daily or weekly activity.
Carleigh explains her initial spark, "A few years ago, virtual reality was starting to make a big splash and I just connected the dots." She goes on, "I thought, maybe I can bring this to Granny and if it works for her why can't it work for everyone else?"
Carleigh found the virtual reality experiences she brought to her grandmother not only gave her something to look forward to, but the activity even helped relieve pain from her arthritis. When Carleigh finally graduated college in 2019, she hit the ground running to build the business. She wanted to use this technology to connect people to each other and to new experiences, and so Viva Vita was born.
Through Viva Vita, Carleigh is able to deliver virtual reality sessions that take participants on walks through tourist hotspots, guide groups through meditation sessions in the mountains, and even let people swim with dolphins all from the comfort of home. Pre-pandemic, Carleigh saw great success working with nursing homes and retirement communities to hold events around Washington, D.C. Her sessions not only facilitated the virtual experience itself, but also a post-experience discussion.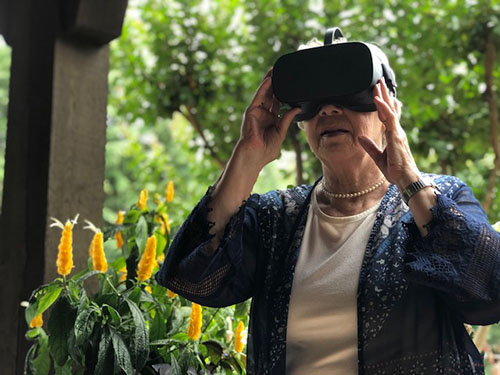 However, as the COVID-19 pandemic started to spread in early March, these in-person sessions became unsafe.
Carleigh explains, "At the beginning of this year we were really hitting our stride, but of course the pandemic changed the way we did everything."
Even though she could no longer deliver her product to her client base, she saw more need than ever for her service. Only a year into her entrepreneurial journey, Carleigh refused to give up. Instead, she and her team hunkered down and began developing their own software that would allow people to access virtual reality entertainment without an administrator.
Carleigh explains, "We essentially had to pivot from a service-based business to a product-based business. We took everything we have learned over the past year or so and used it to help us make this change."
Carleigh needed to make sure her product was not only continuing to provide valuable experiences for seniors but that the technology would be easy enough to navigate for non-digitally native users.
After a long summer of hard work and support from the Paycheck Protection Program, Viva Vita is ready to meet the moment. Retirement community clients can now order headsets and a pre-programmed tablet loaded with 30 virtual experiences.
The COVID-19 pandemic forced Carleigh to think outside the box and actually expand her business. Now, she is able to reach senior citizens across the country in a safe and socially distant way.
She advises, "Take the time to wade through resources and see what's out there because there are not only a lot of helpful resources to help navigate you through this time, but there are also a lot of funding opportunities through different grant programs."