New York daycare provider is on a mission to lift low-income minority families
Friday, October 14, 2022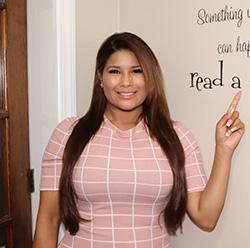 Janna Rodriguez has always been an active leader in her community—when she was 16, she began volunteering for political campaigns, from her local school board, all the way to presidential elections. In 2018, her entrepreneurial spirit led her to establish the Innovative Daycare Corp. in Long Island, New York. Her mission is to ensure that minority children in her community have the resources and privileges that children in other communities experience. The bilingual childcare program incorporates activities such as yoga and meditation, and Janna prides herself on the strong relationships she builds with the parents who use her service.
Janna launched her business to serve low-income, minority families in her community, and Innovative Daycare Corp. subsidizes its services for 90% of its clients. She recognizes that people of color are more likely to face disparities in affordable childcare, and the COVID-19 pandemic has aggravated this situation. She says, "Women should not have to choose between accessing childcare for their families and giving up their career aspirations."
Janna shares that her community has continuously experienced underfunding and inequitable access to essential resources, which have only been exacerbated by the COVID-19 pandemic. She was unable to access federal relief funding programs or rent relief during the pandemic, which left her strapped for cash for nearly 14 months. Throughout those 14 months, Janna did not pay herself a living wage in order to keep up with operating costs and payroll expenses after her business was furloughed.
Pre-pandemic, Innovative Daycare Corp. provided care for 16 children, but she had to cut her services and staff to half. As a member of several advocacy groups and committees within Early Childhood Education, she recognizes that she has access to an audience of local and state legislators that many do not have access to. She has always strived to be a public servant, "advocating and trying to support the needs of her community" as a liaison between the parents and the childcare system. So when COVID-19 shutdowns were enacted, she immediately contacted New York's Department of Social Services to ensure that the subsidies of her clients were not going to be impacted.
Even before the COVID-19 pandemic, the childcare system in New York State was in crisis. She believes this crisis will eventually impact the economy at large, as families are forced to find alternative ways to provide care for their children or stay at home, which limits their ability to earn a living. Over 3,500 childcare providers in New York shut their doors between January 2020 and July 2022, and due to this steady decline, providers are offering care to 10,544 fewer children compared to pre-pandemic levels. Childcare programs, like Janna's, have been the most affected. And when childcare providers close their doors to the public, women, specifically women of color, are impacted the most.
Janna continues her work to fiercely advocate for childcare providers, small businesses, and communities of color. As a member of our National Small Business Council, she attended the signing ceremony for Small Business Majority's joint webinar series with the U.S. Small Business Administration (SBA), which will cover timely topics to inform and connect small business owners with SBA resources and tools to meet today's challenges. She wants to amplify the "unspoken struggles that no one really knows about," from the voice of small businesses that are never heard.