More than just a market: LA small business grows strong roots in community
Wednesday, October 2, 2019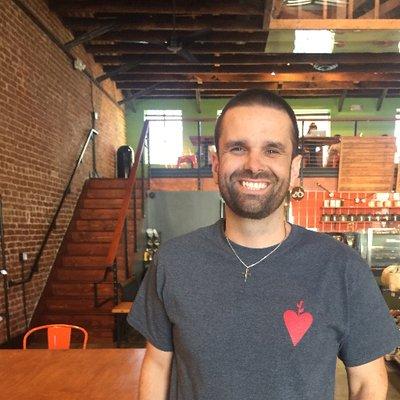 When Andrew McDowell set out to open his small business, he wanted to address a prominent issue he was seeing in his community—food deserts.
South Los Angeles is riddled with food deserts, meaning that many neighborhoods do not have access to healthy, affordable food within a reasonable distance from their homes, leading to high rates of diabetes and other health problems.
Since before its inception, Andrew wanted to make sure With Love Market and Café had a strong foundation in the Southwest Los Angeles community to address this and other issues. He spent two years canvassing the neighborhood and surveying more than 200 residents about what they wanted his business to look like. He used their input to make big decisions like the produce he sold in the market and seemingly small things like the music he played while customers were sitting down for a cup of coffee. When he finally opened his market, he wanted to be confident he was providing a space the community both needed and wanted.
Not only does the market serve the community, but it was funded by the community through a crowdfunding campaign and will now be owned by the community thanks to the launch of a Direct Public Offering (DPO). Crowdfund Better helped Andrew raise the money he needed to get With Love off the ground. Now they are helping him again with his DPO campaign. The DPO allows Californians to buy shares in the business and participate in its success, which can benefit both the community and With Love Market and Café.

Kathleen Minogue, Founder & CEO of Crowdfund Better and With Love Board Member explained, "It has always been our hope to revisit crowdfunding as a way to grow With Love's impact, and after many years of dreaming and many months of planning, we are bringing the story full circle through this investment crowdfunding campaign."

Andrew elaborated, "As With Love grows, we have the opportunity to not only be community-focused but also community-owned."
Andrew's goals have always been centered around creating a long-term and sustainable impact on his community. He requires that at least 75% of his employees are from the immediate community, which he defines as within two square miles of With Love, but in practice, he finds that normally about 90% meet that criteria.

He says, "As a social enterprise, With Love succeeds when our employees and communities succeed. We take pride in being a stepping stone for those seeking employment in our community."

With Love has also become a gathering place for the community. For example, as part of a new event series, Andrew worked with Small Business Majority's California Deputy Director Xiomara Peña to host two free workshops, one in Spanish and one in English, at the cafe for other local small business owners to learn about credit and cash flow. Andrew also offers internships through different programs so that local kids can learn valuable skills and give back to their community.
Andrew sums it all up by saying, "We want people to feel connected to our business by making them feel a part of it—whether that is because they know someone who works here, they took a class here or they are financially invested in the business. That's how you grow roots in a community."