Latino business owner and leader lifts his community through food
Wednesday, August 31, 2022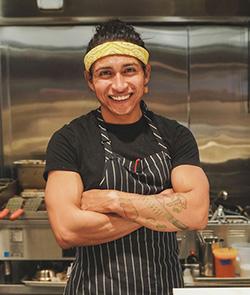 Edwin Sandoval, the proud owner of Xatrucho Concepts, moved from Honduras to the Colorado Springs area when he was only 10 years old. At age 14, he began working at restaurants, where he quickly realized his potential and passion for the food industry. He pursued a degree in culinary arts and continued to work at various high-scale restaurants until he had the gumption to start a business of his own.
Edwin launched Xatrucho Concepts in 2017 with the goal of becoming one of the premier private cooking concepts in Denver, Colorado. Xatrucho Concepts has garnered attention for its unique menus and experiences where guests collaborate with a wide range of businesses, nonprofits, and event venues to serve the Denver community and beyond. Most recently, he is heavily focused on chef-led private dining experiences and large-scale catering.
Community wellness is at the heart of Edwin's initiatives, whether in the U.S. or abroad. After becoming a U.S. citizen in 2018, he decided to return to Honduras to organize and lead community charitable programs after devastating hurricanes swept through the country.
He has also partnered with nonprofit organizations in Denver and across the country to offer cooking classes for low-income children and raised funds to support his Latino community. He says, "our goal is to inspire others to pursue their creative dreams while also making a difference in the world."
Throughout the COVID-19 pandemic, Edwin remained committed to offering regular work hours for his employees. He admits to initially struggling with bookkeeping and finding new opportunities for capital. Still, he rose to the challenge and was able to access relief from the Restaurant Revitalization Fund.
While funding continues to be a challenge for countless entrepreneurs, Edwin is actively pursuing creative opportunities to cater and host private events. He understands the power of community and partnerships and works with Latino leaders in the space to show that Honduran culture is far more than what is presented in the media. Edwin is confident that he will continue to push his culture forward through his cooking.
Small Business Majority is spotlighting diverse entrepreneurs like Edwin Sandoval to celebrate their accomplishments and highlight their contributions during National Hispanic Heritage Month.