Illinois limo service owner struggles to see a road ahead for her business
Thursday, November 5, 2020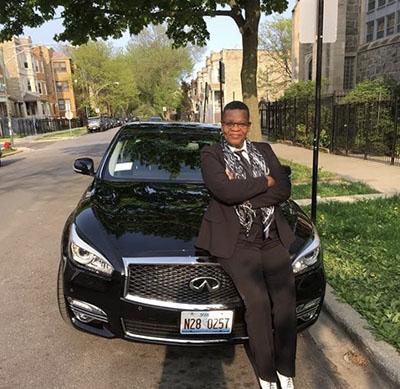 Guana Stamps, owner of Keep it Moving & Associates LLC in Chicago, Ill. opened her limousine service with the idea of offering a safe, reliable way of transportation for her clients. Keep it Moving is a pet friendly car service, which is an uncommon feature in the transportation business and sets her apart from the local competition.
Her business offers trips to and from the Chicago O'Hare airport, private drives to school proms and weddings, and for any occasion. Despite her drive to provide excellent service, her business is still struggling to secure income just like many other small businesses during this difficult time.
Guana started her business a little over four years ago, but she's had a passion for driving safely since her late mother was in a bad car accident in 1994. She vowed to never let anybody else drive her again and that she would be her mother's personal driver until the day of her passing.
Prior to the pandemic, Guana was excited to receive a contract with one of the largest limousine companies in the city. She was thrilled because the company allows contractors to add cars and hire extra chauffeurs, which would have increased her bottom line. But the pandemic has cost her all of her income, and she went from having three part-time employees to zero, creating job insecurity for them as well.
Guana applied and received small loan amounts from the Paycheck Protection Program and the Economic Injury Disaster Loans, and is in the process of applying for loan forgiveness. The federal relief funding allowed her to keep up with her monthly bills and keep herself afloat for a short period of time, while she also received unemployment benefits during the pandemic.
But after unemployment benefits expired due to a lack of bipartisan agreement on a larger stimulus package, and without knowing when business will pick right up, she's in the process of finding any kind of employment opportunities to help her sustain through this crisis.
Guana is concerned about the viability of her business as winter is fast approaching. The next three months are regarded as the slow season within the transportation industry. Her business will be completely shut down, though it will still continue to incur expenses. She explains,
"The pandemic is crushing my business but I'm putting up my best fight. When I look at the current situation where I'm only getting a reservation maybe every 45 days, it's hard to say what the future holds for my business right now."
And without knowing what else to do, Guana, at 55 years old and having spent her life savings on her business, only hopes that she can continue to follow her dream.
While the current political infighting continues to take center stage over the issues small business owners are facing, Guana shares, "If lawmakers really want to help small businesses through these difficult times, give us the capital we need to get through the crisis. Give us enough funding for the next 3-6 months so that we can keep our businesses open and operational. Another loan will put me in more debt, and keep me at a disadvantage for years to come. A grant will provide me a lifeline until the pandemic is under control."
Small Business Majority is sharing stories like Guana Stamps' to educate policymakers about what small business owners need in order to survive this crisis. Help us spread the word that policymakers need to do more to support business owners in order for our economy to recover by sharing your story or signing our letter to Congress to ask for long-term relief.