Chicago small business pivots to support frontline workers
Wednesday, September 23, 2020
What comes after the pivot? Many small business owners who initially re-tooled their business to better suit the needs of consumers during the pandemic are starting to ask themselves this very question. Among them is Eric Cup who expertly adapted his business early on, but is now finding his pivot, while necessary, is not sustainable.
Eric and his partners started Bridgewater Studio in 2014 with the hope that their custom manufacturing company would serve as the last jobs they ever had. With backgrounds in theater, design and construction, the three quickly expanded their business from Eric's loft apartment in downtown Chicago to what it is today—two warehouses, 80,000 square feet and 50 employees.
For the past six years, the company has been building and designing installations all over the city for museums, malls, office spaces and much more. Because they do everything from woodwork to metalwork to sculpture in house, Bridgewater Studio was well equipped for a pivot.
When stay at home orders were put into place, Eric and his partners prepared the warehouses to shut down not knowing when they would be able to go back to work. However, they didn't spend long at home. That very weekend, they developed a plan to make face shields for healthcare workers. By Monday, they were back to work making prototypes.
This fast thinking allowed Bridgewater Studio to stay open throughout the shutdown providing face shields for a number of local organizations, including a contract with the Illinois Emergency Management Authority to whom they sold a quarter of a million shields.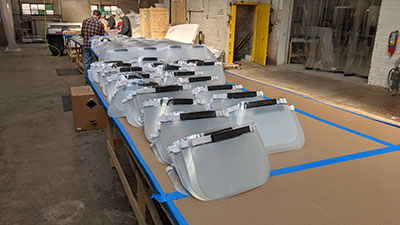 This has enabled Bridgewater Studio to avoid any layoffs and actually allowed the business to take on an additional 20 temporary employees to fulfill contracts for the face shields.
Eric explains, "It's my top priority right now to keep everyone employed. Since the work we do is so specialized, it would be very difficult to re-hire our employees when things go back to normal."
However, it wasn't just the face shields that have kept Eric and his partners in business the last six months. The Paycheck Protection Program (PPP) loan they received has not only made it possible for Eric's employees to keep their incomes but also their health insurance—something that Eric knows is more important than ever.
But, six months into the pandemic, supply has caught up with demand and PPP funds are running low. Orders for face shields have dissipated and Eric and his team have spent the summer finishing up pre-pandemic projects.
Generally, this is the time Bridgewater would start work on installments for the holiday seasons, but all of their usual clients have put plans for holiday displays on pause.
Eric expresses a growing concern, "Overhead costs stay the same throughout the year. It costs the same to run our business at 25% capacity as it does at 100%."
Despite making a very successful pivot, Eric knows that his business will need additional funding and support from Congress in order to keep his team employed.
He explains, "PPP was a lifesaver the first time around, but now funds are running out. Small businesses like ours are the main employers in this country, so maintaining their viability is essential to recovery."