California brothers use their father's legacy to bring soul into their community
Wednesday, March 1, 2023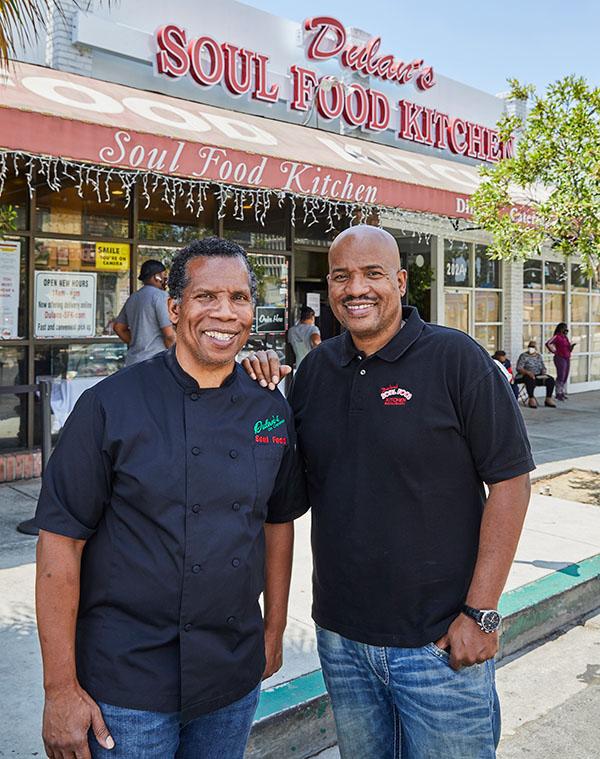 In 1975, Adolf Dulan opened his first restaurant in South Los Angeles and became the "King of Soul Food" in his community.
45 years later, Dulan's Soul Food Kitchen stands as a well-loved community establishment. With Adolf's children—Greg Dulan, Terry Dulan, and other siblings—at the helm, it has grown to more than 60 employees and multiple locations across LA. Their mission goes beyond serving first-rate soul food in generous portions—they strive to be a socially responsible, successfully operated business with hospitality that reminds one of being at Grandma's for Sunday dinner.
Both Greg and Terry grew up in the family business, watching their father open and successfully run various restaurants throughout the years. Although they didn't always enjoy the work as teenagers, they both knew they wanted to come back to it after college.
After attending Howard University, Greg Dulan worked for J.P. Morgan Chase for several years before coming back to run the family restaurants in 1986. Over the past 36 years, Greg also opened his own Dulan food truck and became co-owner of Hotville Chicken, a Nashville-style hot chicken restaurant rated as one of the Best Restaurants of 2020 by Los Angeles Magazine.
Following in his older brother's footsteps, Terry attended Howard University and worked in Wall Street for 25 years before returning home to help run the businesses.
Terry and Greg shared that Dulan's Soul Food Kitchen serves an especially important role in their community as it is located in a food desert. According to Greg, communities are judged by three main criteria—schools, parks, and restaurants—so it's important that small, independent restaurants like theirs can meet the needs of consumers and create jobs in their communities. He wishes more people realized that the restaurant industry can offer first opportunities for new jobseekers and second chances for individuals with prior convictions. Nearly 8 million Californians, or 1 in 5 residents have a criminal record—creating a wall of lifelong barriers in seeking employment and entrepreneurship opportunities. But as a recent Small Business Majority poll found, small businesses like Greg and Terry's play a powerful role in offering second chances and fostering a more inclusive economy.
But as the brothers continue to make an impact in their communities, they share that the considerable costs of running a small business have been made astronomical by inflation and a host of other issues in the wake of the pandemic.
Greg says, "Having to constantly worry about how we're going to pay bills and taxes makes it difficult to be a business owner. And sometimes, there seems to be no end in sight." Although they could hypothetically raise their prices in the face of escalating costs, they don't want to deter loyal customers from coming back.
Greg says, "I'm just concerned that rising inventory costs are going to eventually leave us out of business and now it's become an endeavor of survival of the fittest."
Despite these challenges, they still have a positive outlook for the future. They pay homage to their father, who passed away in 2017 and left a legacy of having a positive mindset and entrepreneurial spirit. Greg and Terry hope to be role models to continue to lift their communities. When asked for advice they'd give to small business owners like themselves, it is clear that their years in business have given them a wealth of experience and insight.
Greg says pursuing lifelong education as a business owner is key: "Even though I've been in business for 36 years, I still take classes, go to seminars, and attend food conventions. You've got to continue to educate yourself, as this will allow you to step away and work on the business rather than in the business, and see where you can improve."
Terry says, "Do your homework before opening a business because there are a lot of variables that can impact you. Seek out a mentor who can help guide you through the process."