Business insider tips from our Small Business Council
Thursday, May 9, 2019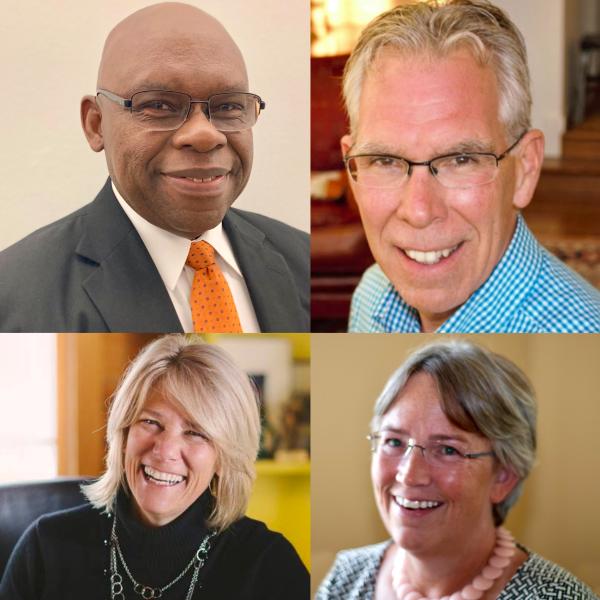 In honor of National Small Business Week, we asked several members of our national Small Business Council to share their expert advice on starting and running your own business. 
Our panel includes
Harland Henry: CEO and founder of SunBiz Showcase Alliance, an economic and community development advocacy company focused on the development of small enterprises based in Tampa, Florida. 
Jessica Jolly: Founder of ALT-Enter, a Chicago-based digital coaching practice that teaches adults the practical uses of the features and functionality in Microsoft Office and other digital products.
Nancy Clark: Owner of Drive Brand Studio, a branding and advertising agency based in Conway, New Hampshire that specializes in medium and small business, nonprofits and government agencies. 
Paul Wichman: Co-owner of the BrightStar franchise in Mill Valley, California, which provides high-acuity nursing services for people who wish to stay in their own homes who are in need of intensive care or are on hospice care.
Q: What has been your proudest moment as a small business owner?
 
HH: When I was asked to join the Hillsborough County Board of Advisors for the Economic Development Innovative Initiative. As an advisor on the board, I was instrumental in helping several start-up companies launch and build capacity while getting funding and mentoring for many new entrepreneurs.
 
JJ: A few weeks ago, I bought business insurance for the first time since starting my business. It was expensive, but crossing this milestone is showing I am slowly building something. 
 
NC: That we came out of the recession. We buckled down, turned down the heat, shut off lights and just dug in. It was an extremely humbling time because I had to call every person/vendor/partner whom we worked with and tell them we were in financial trouble. Without exception, every single person told me to take my time and pay when I could. Being able to be that humble and watch the result was a proud moment.  
 
PW: We have received many awards, but the recognition pales in comparison to seeing the positive impact we make on people's lives. I am proud to receive unsolicited feedback from team members about how much they love working at BrightStar or from family members about how much they appreciate the compassion demonstrated by our nursing team.
Q: What are some of the resources you wish you had known about when you were just starting out?
 
HH: Most people look for sources of financial help, but I wanted technical assistance and that's why you need mentors in your field. One of the resources a startup needs most is helpful and encouraging words of advice. 
 
JJ: Invest in conferences. Start by finding local business startup meetups. For me, the networking at these events has helped in meeting key players in the space, meeting new clients and learning new skills to grow my business.
 
NC: I wish I had a mentor or advisor — someone who had gone through some of the things I would go through during my "future" business self.
 
PW: Crabtree, Rowe and Berger. If every business owner launched with the discipline taught by Greg Crabtree and his team, the success rate of small businesses would be double what it is today.
Q: What is one piece of advice you think small business owners should be given more often?
 
HH: Small businesses need advice on getting advice. As a small business advisor, I encourage every small business to have a board of advisors.
 
JJ: Be prepared for some hard, but rewarding years ahead. Owning and running a business is a time commitment, not a 'get rich quick' environment. Don't romanticize entrepreneurship. Being honest and realistic about expectations will go a long way.
 
NC: Surround yourself with people who are smarter than you, be a leader and a coach not a boss or a quarterback, and always be humble. 
PW: Keep it simple. Understand the biggest levers you control and determine the best way to measure them. Then socialize those metrics throughout the organization and watch them like a hawk.
 
 
Q: What is the most satisfying thing about being a business owner? What makes it all worth it?
 
HH: Knowing I assisted several clients to reach their goals. What makes it satisfying for me is a phone call or message saying, "Thank You...". 
 
JJ: The reason I left the corporate world was ultimately because in that space your growth and happiness is dependant on how much the company values you. Owning my own business, if I want to take time to learn something new in the tech space, I can spend the time doing it, and it could be a new tool to include in my business model. 
 
NC: The ability to be nimble, flexible and change the world.  And I LOVE being a coach and mentor to people. To watch them grow, learn and problem-solve.
 
PW:  I've been able to build a culture of trust, collaboration and compassion. We trust each other enough to engage in rigorous debate to tackle big issues and constantly improve how we deliver services to our clients. I love coming to work every day because I love the people I work with. We laugh even on the most stressful days!
Our Small Business Council is comprised of 15 veteran small business owners who come from a variety of industries and backgrounds. They volunteer their time and entrepreneurial expertise at board meetings, public events and in the media to help Small Business Majority identify and address the biggest issues facing small businesses today.