Third-generation restaurant owner keeps his Illinois community at the forefront of his business
Wednesday, June 23, 2021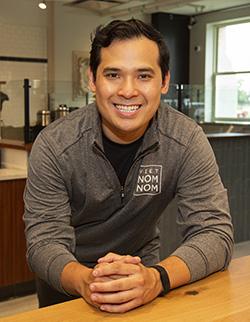 As a third generation business owner, Alan Moy has gained significant wisdom and experience from watching his parents and grandparents choose an entrepreneurial journey as a means to provide a brighter future for their children. Today, he's the proud owner of Viet Nom Nom, a Vietnamese-inspired restaurant, catering and pop-up business in Evanston, Ill. that serves healthy salads, rice bowls, soups and sandwiches.
Owning a business has been a lifelong dream of Alan's. Even after working in finance during the early stages of his career, he wanted to follow in the footsteps of his parents and grandparents. He says, "Viet Nom Nom started from a very grassroots level, out of a shared kitchen. But my goal has always been about scaling up and opening locations from coast to coast."
Prior to the pandemic, Viet Nom Nom had a single storefront in Evanston that would serve as the central engine behind as many as five operations. From the brick-and-mortar restaurant and catering and pop-ups on Northwestern University's campus, to the football stadium and more. He shares, "We had big expansion plans for Viet Nom Nom in 2020 but with the pandemic, that all came to a screeching halt."
When the coronavirus became widespread, he decided to close his businesses temporarily because the health and safety of his staff and customers always came first. He took some time to regroup and think about the best course of action for his business. After two and a half months of being closed, Alan forged ahead and reopened his Evanston storefront in June of 2020 and then launched three new locations over the next three months at Dr. Murphy's Food Hall, Northwestern University's Norris Center and The Hatchery.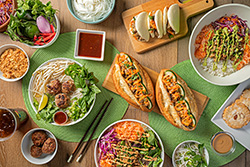 In the midst of all the chaos and the constant roller coaster of emotions due to the changing nature of the pandemic, Alan knew he could rely on his community. Before the pandemic changed the business landscape, he made it a priority to establish relationships with those in his community. He advises fellow small business owners to "forge partnerships early and often" and to seek out ways to be of service and support to others and provide guidance when you are able.
"Those partnerships can come around and serve you in the best kind of way possible, so be generous with your time and talents," says Alan.
In fact, his prior relationships with individuals at the U.S. Small Business Administration and business organizations have allowed him to restart some of his business ventures and seek relief funding during the early stages of the pandemic. And though Alan was able to secure a handful of grants and loans, he often thinks about how other members of his community would have had very different experiences in accessing relief funding and offers his insights and experience as much as possible to assist his peers.
He shares, "I can't imagine how much more difficult this process would be for others who do not speak English or who have educational barriers. Even having worked in banking, the funding applications were incredibly difficult for me to navigate."
In the meantime, Alan continues to collaborate with fellow entrepreneurs to keep his community informed as it recovers from the pandemic.