Texas entrepreneur emphasizes marketing needs in the small business space
Wednesday, March 29, 2023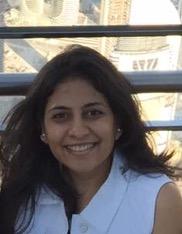 Neha Mehta has an entrepreneurial spirit that is always leading her to try something new. She, along with her husband, are the co-founders of Seashore Solutions LLC. located in Austin, Texas. After decades of multi-industry experience, they decided to launch Seashore in 2017, a consulting and software firm that provides affordable, sustainable and cutting-edge solutions to a global client base. Products range from mobile application development to e-commerce websites to enterprise-level solutions such as third-party integration. Regardless of the task at hand, Neha and her business thrive on new challenges. In just a few years, Seashore Solutions has expanded to 45 full- and part-time employees.
In addition to running Seashore Solutions, Neha is in the process of developing Cicle Health, a women's health and fitness app that gives medical professionals and patients a single platform to share and receive information for real-time health support.
As a two-time business owner, Neha wishes more people understood small businesses' unique value propositions. One of these is that small businesses can provide personalized services and flexibility, and can pivot easily. Unlike larger corporations with immense overhead and organizational inertia, if an aspect of the business model isn't working, small business owners can easily switch gears. Additionally, even in economic downturns, customers will often turn to small businesses because working with larger companies can quickly become cost-prohibitive.
For example, Seashore Solutions is designed to develop and implement the newest technologies in a manner that is cost effective and sustainable for their clients. There is a wide span of resources one could dedicate to software solutions ranging from $10,000 to $1 million. Neha's small business fills the gaps serving smaller clients with fewer resources and also competes on a larger playing field serving clients such as McKesson and South Jersey Industries.
However, small businesses face a set of unique challenges. One of these, Neha says, is the lack of exposure for brand awareness and new customer acquisition. Neha and her husband have more than 45 years of combined experience in the industry, yet people don't always understand what they can offer in terms of skill and expertise because their business is so small.
For this reason, getting new business can be difficult. Neha says that 90% of business comes through referrals from past satisfied customers, but she knows there is more business out there that Seashore Solutions could be bringing in.
She says, "As a small business, we often struggle to establish brand recognition and awareness, which can make it difficult to attract customers. These are areas that I know small businesses struggle with, the ability to stand out from the noise through effective marketing strategies."
In addition to running her business and developing her new app, Neha has been a member of Small Business Majority's National Small Business Council since 2018 and is a member of TIE Austin, a global entrepreneurship network.
Neha admires the uniquely positive and tenacious mindset of small business owners and entrepreneurs. She believes that along with passion, dedication, flexibility, and ability to innovate, a successful small business owner must learn how to accept failure.
She asserts, "If you can accept failure as a new challenge or minor setback, you will always enjoy entrepreneurship."