Small Business Speaks: Two Days in Washington with Small Business Majority
Thursday, October 12, 2023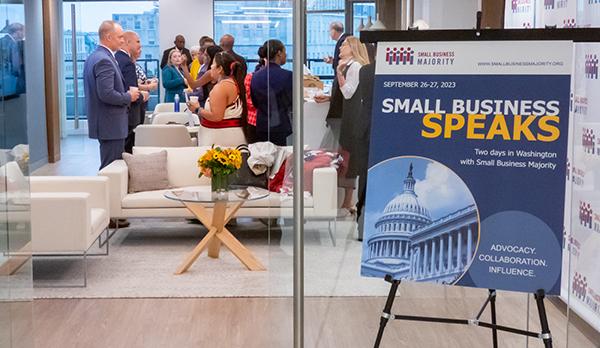 On September 26 and 27, Small Business Majority hosted an advocacy fly-in event, "Small Business Speaks: Two Days in Washington with Small Business Majority." Nearly 30 entrepreneurs from the organization's national and state Small Business Councils attended the event to build community and ensure that federal policymakers heard the true voice of small business.
To kick off the event, Small Business Majority provided these small business owners from diverse industries and backgrounds with an advocacy training on how to best tell their stories in order to support small business forward policies. After the training, they had the chance to share their unique perspectives and ask questions about upcoming legislative decisions in meetings with policymakers.
First, they had the opportunity to meet with officials from the Biden-Harris Administration: U.S. Small Business Administration (SBA) Administrator Isabella Casillas Guzman and Special Assistant to the President for Economic Policy Michael Negron. They discussed the impact of SBA loan programs during the pandemic, updates to the SBA's loan and resource programs and the Biden-Harris Administration's work to prioritize small businesses in a more inclusive economy.
During visits to the U.S. Capitol, they had meetings with Senator Ron Wyden (D-OR), Senator Ben Cardin (D-MD), Senator Amy Klobuchar (D-MN), staff from Senator Joni Ernst's office (R-IA) and Senator Mike Braun's (R-IN) office. They discussed a wide range of issues, including small business tax issues, small business services in underserved communities, healthcare, government contracting, entrepreneurship for justice-impacted individuals and how to center small businesses in policy.
Small business owners shared how impactful these meetings were to ensuring policymakers in D.C. understand the unique challenges they face. "The entire experience with Small Business Speaks was priceless for me because I had a strategically direct opportunity to advocate with high-level policymakers and members of President Biden's Administration. I felt Senator Wyden understood and respected my opinion," said Talibah Bayles, Founder & CEO of TMB Tax & Financial Services in Birmingham, Ala.


Additionally in several meetings, business owners spoke about how the potential government shutdown and childcare funding cliff would harm their business and employees. While a government shutdown was averted until November 17, as of September 30, the childcare industry is facing a gap in billions of dollars in federal funding that helped stabilize the childcare ecosystem during the pandemic. While the participants own businesses in different sectors like restaurants, retail, consulting, manufacturing and more, they all shared how they and their workforce would be impacted by a lack of access to affordable childcare.
Furthermore, business owners used the meetings to celebrate policymakers who have been instrumental to small business success. Small Business Majority Board Chair LaJuanna Russell presented Senator Cardin with Small Business Majority's Small Business Champion, Lifetime Achievement Award. During his tenure in Congress, Senator Cardin has been a champion for small businesses and provided excellent leadership as the chair of the U.S. Senate Committee on Small Business & Entrepreneurship. He will retire at the end of his term, and his influential voice will be missed.
Attendees also had the opportunity to learn from each other and network. "The opportunity to connect with peer business owners is everything. I didn't have far to travel, but the distance that I did travel was worth every mile," said Tierra Henderson, CEO of iFinancial by Tierra, LLC in Henrico, Va. Although it's incredibly rewarding, entrepreneurship can also be challenging and isolating. It's important for entrepreneurs to become part of a small business community. By joining a community, small business owners can support each other in addition to gaining more opportunities for collaboration and growth.
"Overall my entire experience was incredible and the only thing I regret is not having more time with other small businesses and policymakers to bring forth real solutions that will support the backbone of America," said Jonathan Burgess, CEO of Burgess Brothers in Sacramento, Calif.