Small business owners work together to create opportunities for unemployed youth
Wednesday, May 4, 2016
Fresh Kutz opened its doors in North Hollywood in 2008 with the goal of offering all customers premium services by top-level barbers in a modern barbershop. Since its inception, owner Brian Portillo knew he would face several challenges as the community has a crime rate above the national average.  Not only did he want to open his business in the community in which he grew up, but he wanted to create positive social impact while running his business.
 "As a teen, I always had the entrepreneurial spirit. I knew I would one day become a small business owner. Now as an adult, and employer, I know my responsibility is to offer opportunities to others," said Portillo. "As a minority small business owner, I take pride in my community and pride in making a positive change in my community."
In 2015, Portillo put those words into action after taking Small Business Majority's Opportunity Youth Pledge—a commitment to help young people prepare for and launch their careers. He has since established an apprenticeship program where he offers work-based learning opportunities for low-income youth.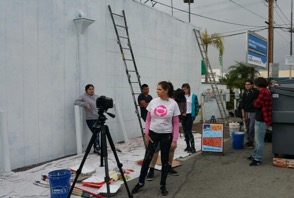 Portillo was also inspired to engage more closely with other small businesses and local non-profits to offer tangible opportunities for youth. He recently partnered with local small business owners from Eat Naked LA, Making It Happen, and non-profit organization Youth Speak Collective to begin working on a community beautification project. This project includes a mural that Youth Speak Collective began working on in late January 2016, which will depict images from their community in the heart of North Hollywood. This project gives young people an opportunity to learn art and design after school and help improve their communities.
By engaging other small business owners and local non-profits to become involved in creating these opportunities for youth, Portillo exemplifies just how easy it is to make a difference through the power of collaboration.
"Providing the youth a forum to positively impact their local communities is essential to creating substantive change for more positive outcomes," said Portillo. "Corporate social responsibility doesn't just apply to large corporations. It's in the best interest of all of us business owners—small and large—to have better communities to increase revenues."
Portillo encourages all small business owners to take an active role in offering mentoring programs or internships.
"Don't think you're alone," said Portillo. "With the help of organizations like Small Business Majority and Youth Speak Collective, you can find resources to help you realize a vision that fits you and the impact you want to create. I encourage small business owners to take the pledge and see how it can broaden their future."
This National Small Business Week, we want to recognize small business owners like Portillo, who offer an inspiring example of how entrepreneurs can make a difference in their communities. For more information about the Opportunity Youth Pledge and best practices to help get more involved with young people, please visit www.smallbiz4youth.com.