Small business owner is keeping the world warm, one blanket at a time
Friday, December 3, 2021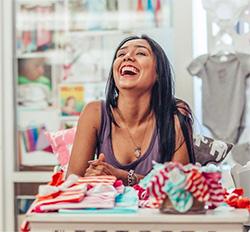 For Rosie Arias, her mission is simple. She wants to keep the world warm one baby at a time.
Whimsical Charm, based out of Long Beach, Calif., was incorporated in 2011 after Rosie's close friends began having children and she couldn't find a blanket that was unique and different to gift them. This inspired her to use her fashion degree and sewing skills to make an easily-maintained, practical blanket that looked nice.
"While I was in the development stages, I looked at every little detail," Rosie said. "You know, the stitches have to be small enough, so they don't catch on a baby's finger or a mom's ring."
Rosie said some of the embroidered designs require up to 30,000 individual stitches. Yet, her motivation to develop high-quality products was only fueled by parents coming back to Rosie and saying the blanket she made was the only blanket their baby felt attached to.
Eventually, Rosie expanded into varying sizes of blankets, robes and now clothing and apparel.
Her business model also emphasizes sustainability. Whimsical Charm ensures no scrap of fabric is wasted and is instead turned into different items such as a Christmas stocking.
This creativity has been ingrained in Rosie from a young age. She began sewing at the age of seven, a skill she learned from her mother who made wedding and quinceanera dresses for her sisters.
In addition to her Hispanic heritage, Rosie is also 40% Native American. Her grandfather's family was born into the Kora Tribe. She carries this background into some of her designs such as the Aztec Newborn Baby Blanket.
These generational traditions are something Rosie wanted to share with young people in her community. Whimsical Charm collaborates with local organizations in the community to train and mentor teenagers who are interested in working in design, photography and other art fields. These teenagers are given the opportunity to see all sides of the business such as design, development, testing, sales, marketing and administrative tasks.
Some of these teenagers are offered flexible part-time positions to give them work-experience needed to get through certain design and visual arts programs.
"At the end of the day, I'm just trying to introduce youth to the idea that they can do so much more and grow outside of the four squares of their city they live in," Rosie said. "These teenagers can say 'Oh my gosh, this girl was raised and came from the same place I did; I could totally do this.'"
Despite her creativity and success in her local community, Whimsical Charm also struggled during COVID-19 like so many small businesses. But Rosie is seeing a glimmer of hope as it is their busiest time of year.
The business has three locations: a retail store in Costa Mesa, a warehouse in San Pedro, that also serves as a storefront on the weekends, and the corporate office in Long Beach. For the holiday season, they also set up as a vendor at Knotts Berry Farm theme park in Buena Park from mid-November to January 2.
Whimsical Charm is also featured on Small Business Majority's 2021 Holiday Gift Guide.
"I'm seeing a turn around for the better now," Rosie said. "This holiday season is now going to show if all the planning, forecasting and preparation will pay off."