Small business owner brings a taste of her Mexican childhood to LA
Wednesday, October 9, 2019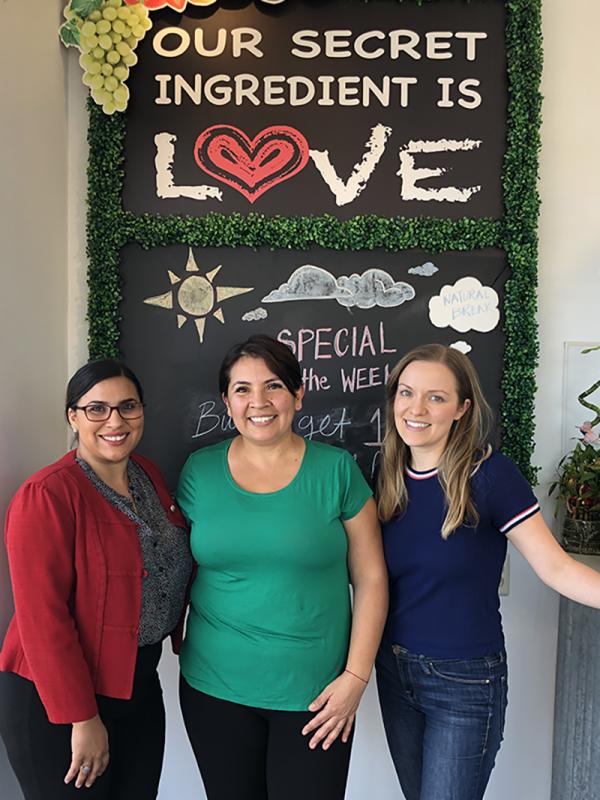 Growing up in Mexico, mornings for Nora Angeles were busy and often consisted of a trip to the neighborhood juice stand for a fresh juice or smoothie before school. This was an inexpensive and easy way for Nora's mom to get her kids the nutrients they needed to start their day off right. After moving to America, this concept became the inspiration for Nora to start her own small business. 
Soon after immigrating to Los Angeles, Nora began to realize that life in America was even more fast-paced than she anticipated, and with a daughter of her own she was concerned that there weren't many affordable and healthy options for a quick breakfast or snack like the one her mother had come to rely on in Mexico. 
Nora expresses her frustration by saying, "In Los Angeles, I have found that the fastest option is usually not the healthiest, and the healthiest is never the most affordable. As a mom, this worries me because I want my daughter to have the best, but I can't always afford it." 
Nora, a serial entrepreneur, was no stranger to small business life when she tackled this issue herself by opening Natural Break Juices early this year. In the early 2000s, Nora owned her first small business where she sold wholesale shoes. Her business expanded quickly and soon she was selling her own brand of shoes. But, the recession hit her hard and Nora was forced to close down her business. She had to start renting out rooms in her house just to make ends meet. However, she didn't let one business closure scare her off from pursuing her entrepreneurial dreams. 
Several years ago, Nora began to see a natural juice trend rising in her city, and she was immediately reminded of her favorite childhood breakfast. But, the juices she tried in Los Angeles didn't quite live up to the ones she had in Mexico, and they weren't nearly as affordable. With that, Nora's next entrepreneurial endeavor was born. 
To fund her new business, Nora held a yard sale, and with the help of her daughter, she was able to make a profit of $300, which she used to buy cups, coolers and a small juicer. Over time, Nora was able to build up a loyal client place and turn a decent profit. 
With a small loan from her aunt, she was able to open up a brick and mortar where she sells a variety of different juices, smoothies and ice pops that are 100% natural and most importantly, affordable. She has grown her business to include five employees, most of whom she is proud to say are Latina women. 
Nora's advice for other aspiring entrepreneurs is that, "fear can stop you, but go for it. You have the power to make your own destiny through your own decisions. Believe in yourself because if you don't no one else will."