Retirement is just the beginning for Denver business owner
Friday, February 7, 2020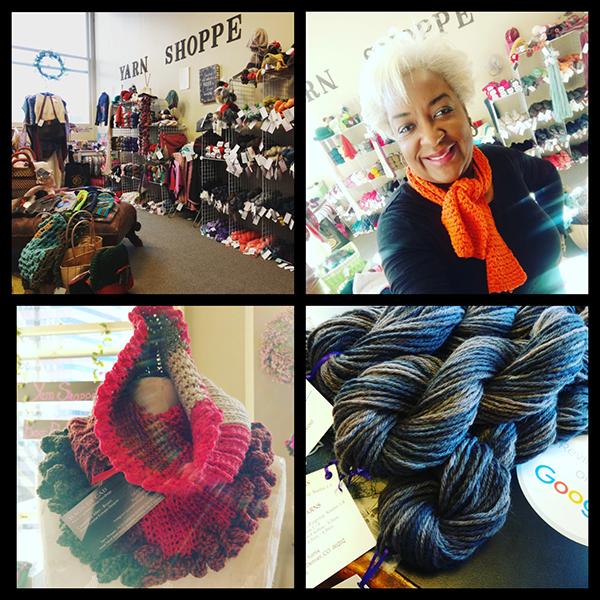 After a 30-year career as a litigation paralegal, Cassandra Allen-Brown decided on a less conventional retirement, opting not for a sunny beach in Florida—but for a little yarn shop in downtown Denver instead.
Cassandra began planning for her "retirement" as a small business owner prior to leaving her legal career. She worked on the weekends building Yarn Shoppe Denver from the ground up by securing a client base, connecting with local artisans and opening a creative space with a focus on customer service and curated handcrafted yarns and wares. When she first started her business, Cassandra was hand-dying and selling locally-sourced yarn and making her own yarn accessories like hats, scarves, fingerless mittens and felted bags, which were featured in Vogue Knitting.
But, over the years, Cassandra has expanded her inventory to include work by local fiber artisans (e.g., those who work with yarn) and pieces from her husband's vintage collection of designer clothing and accessories.
"I have this amazing passion for fiber arts and I love bringing people together who have the same passion because it is something that crosses all demographics. It doesn't matter what race, nationality or income level you are, everyone can knit and crochet," Cassandra explains.
Before she retired, Cassandra hired full-time employees to run the store during the week, and she would work the weekends, but since her retirement more than three years ago, Cassandra has been thrilled to spend every day in the yarn shop personally assisting her customers with the help of her part-time staff.
Since the Yarn Shoppe is conveniently located between a number of hotels and down the street from the convention center, Cassandra welcomes a wide variety of customers into her store who are excited to find a hand-crafted souvenir to bring home after a business trip or family vacation. One of Cassandra's favorite things about owning her business is that her products are being talked about and admired worldwide. Some customers are so thrilled to find the yarn shop that they roll in with their luggage straight from the airport!
Recently, she had a woman from London come into her store. The woman explained that a friend of hers in England had been in the shop months earlier and she had admired her friend's scarf so much, she made it a point to come by on her own trip to Denver.
While Cassandra loves to hear that her products are so loved, it's also important to her to highlight the work of other local fiber artisans. Since becoming a small business owner, she has become very active in her community. She hosts crocheting and knitting workshops, fiber artisan meet-ups, and serves as a travel concierge, which is a program that provides projects for traveling customers looking for something to do in their downtime.
She explains, "Coming into my shop is kind of like going to a curated event every day because we have artisans in the store all the time. Some of them have shops on Etsy, but their products sell better here because this is the type of product that people want to see and touch before they buy it."
Despite her passion for her community, the most important thing to Cassandra is her family. Over the years, they have supported her through her business journey with words of encouragement and helping hands whenever needed. And it appears Cassandra's entrepreneurial spirit has rubbed off on her kids as well as: Her teenage daughter is starting an online clothing resale store and her son is a videographer.
Cassandra gushes, "I couldn't do this job or operate this business without my family. They are a phenomenal support system."
Connect with Cassandra on Instagram, Pinterest, Facebook and her blog. Discover what products she has to offer on her online store and at www.YarnShoppeDenver.com.