How one entrepreneur went from briefcases to cake pops
Friday, June 19, 2015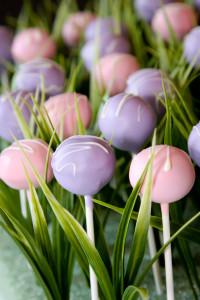 One D.C. entrepreneur made the rare decision to forfeit her high-paying career at a law firm and embrace her creative side by going into the kitchen and whipping up cake pops. That daring leap led Yael Krigman to open the area's first-ever store dedicated to cake pops, a cakepoppery called Baked by Yael.
As a buttoned-up law firm associate, Krigman's desire for a more lighthearted work environment began when she started a tradition known as "Monday Treats," where she would bring in baked goods she made from scratch to counteract the doldrums of her office environment.
"I eventually reached a point where I had to make a choice between a secure, high-paying job and a business venture with tremendous risks, but also potential for tremendous gain, both in profit and happiness," Krigman recalled.
It ended up being a no-brainer – Krigman quit the firm, and Baked by Yael was born. Case closed.
"Being a lawyer was very adversarial," she said. "We were always opposing someone or something. Now my job is to add sweetness to people's lives."
Krigman started out marketing and selling her cake pops online, but without a storefront, she found it difficult to take Baked by Yael to the next level. She began a successful Kickstarter campaign in 2013, raising nearly $75,000, which, along with some loan assistance, enabled Baked by Yael to transition from an online retailer to a brick and mortar business, starting with a kiosk at the Annapolis Mall.
Krigman cited that first move as a pivotal juncture to interacting more with her customers.
"I learned that people were excited about the idea of cake on a stick. It was something that appealed to the growing group of consumers who didn't want to eat a whole cupcake or slice of cake," she said.
Krigman opened her first storefront in January this year across the street from the National Zoo. Now with an actual store to call her own, Krigman's connection with her customers has only deepened.
"The most rewarding part of my business is making my customers happy. Through Baked by Yael, I've been part of bar mitzvahs, graduations, baby showers and birthdays."
Despite the limited resources she faces as a small business owner, there are two things Krigman refuses to skimp on: her employees and her ingredients. She starts all of her employees at a salary above D.C.'s minimum wage, and while this results in higher payroll expenses, Krigman believes this is crucial to her business.
"It's important to me that I treat my employees well. I respect them and I value them. While a more prudent approach fiscally might be to use the cheapest ingredients possible and pay my staff no more than the minimum wage, I'm not willing to do this."
While she remains focused on keeping D.C.'s first cakepoppery stable and profitable, Krigman is just thrilled to be rolling cake pops, cultivating a family-like workforce and providing a little pop of happiness into the lives of her customers.
"After four years as an online bakery, it's a real treat to be able to meet my customers in person and watch them enjoy our cake pops and other baked goods. That moment when they take their first bite, when their eyes close and they sigh, is such a joy to witness."