From an hour a day to Crème Caramel LA
Friday, April 3, 2015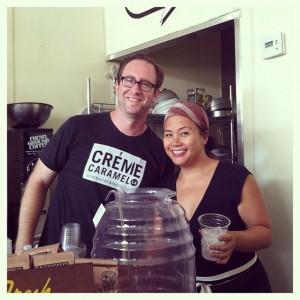 246 hours. For eight months, Kristine de la Cruz spent one hour each day working on a business plan. After 246 hours, Crème Caramel LA was ready to sell.
Crème Caramel LA, a custard and confection dessert bakeshop in Sherman Oaks, CA, may have only taken 246 hours to conceive, but the notion of owning her own business had been with Cruz for far longer.
"My passion ignited for owning my own retail business as a child," recalled Cruz, who remembers her father bringing home blueprints for fast food Filipino-inspired restaurants as a child and imagining herself working as a cashier in those establishments when she got older.
"Playtime for me was pretending I owned a shop, bar and restaurant rolled into one, and my siblings were my customers," she said.
Cruz had quite the reputable job working for a music agency in Beverly Hills, but the idea of owning a business was always in the back of her mind, to the point where she grew weary of always mentioning it but never acting on it.
"I got tired of talking about it and decided to take one hour each day for a year to work on either my business plan or recipe. I figured one more year of actually doing something about what I've always wanted to do would bring me closer to it or make me decide I didn't want to do it at all."
Turns out she only needed eight months. With a product, business plan and mascot in place, Cruz launched Crème Caramel LA.
Inspired by Filipino recipes and ingredients such as ube, a purple yam popular in the Philippines that creates a deliciously smooth and naturally sweet lavender-colored custard, Crème Caramel LA brings a welcome innovation to the crowded dessert landscape.
"We are targeting Filipino ingredients and recipes to help us stand out among our mainstream bakery competition," she said.
Besides exotic ingredients like ube, Cruz's other secret weapon to help her stand out in the crowd is Dapper Dan.
As the character mascot for Crème Caramel LA, Dapper Dan boldly and proudly declares his (and the shop's) independence with the tagline, "I'm Not A Cupcake!"
"We started the business around the time that cupcake shops were springing up all over the country," she said. "We knew we would stand out, but we wanted to not only stand out product wise, we wanted to shout out that we were different."
All of these tactics have succeeded in carving out a niche and uniquely popular spot for Crème Caramel LA in the food industry, one Cruz notes can be a fickle one: "You can be the flavor of the month one moment and wondering where the customers are the next."
But with top sellers like Crème Caramel, Upside Down Pie and Bread Pudding flying out of her shop and into the mouths of happy customers every day, Cruz needn't worry about flaming out anytime soon.
"What's great is that I get to do it all, the way I want to do it. It may not be pretty sometimes, but overall, we do everything with passion and gusto."
Cruz may not have a set plan for the future of Crème Caramel LA yet, but give her an hour a day and see what eventual magic comes from it.