Colorado mother turns life hack into a business
Friday, August 31, 2018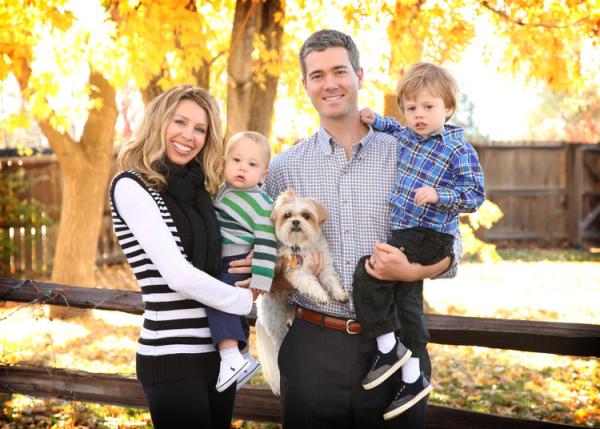 Spills are an inevitable part of life for a mom with two toddlers, but Cara Brzezicki of Littleton, Colorado, needed a way to minimize messes after her sixth-month-old son's favorite game became throwing his sippy cup on the floor.
After trying to no avail to find a product that would prevent her son's cup from falling, Cara decided to take matters into her own hands. She bought a clamp from a hardware store, drilled a hole in it, attached a cord and hair tie, and the Sippie Clippie was born.
She took the prototype out in public and received so many compliments that she decided to manufacture it, and the final product will be made in the United States from recycled plastic and hemp. She also filed for a provisional patent.
"I care deeply for animals and am very environmentally conscious, so I try to use recycled materials whenever possible," Cara said.
Her business, Jazzie Beans LLC, is named after her pet Shih Tzu/Maltese mix, Jazzie Beans, which has been by Cara's side since she was a single lady. Jazzie Beans is the only other girl in Cara's family, and she describes her pet as a happy dog, so she thought Jazzie Beans was the perfect name for her business.
"I want to carry over Jazzie Beans' happiness and compassion from my everyday life to my business," Cara said.
Although Cara named her business after her good-natured pup, her journey toward becoming an entrepreneur has not always been joyous. Cara is not eligible for many of the funding opportunities available to lower income business owners, and her business is not established enough to secure a loan through traditional lenders. As a result, she and her husband had to dip into their personal savings to support her enterprise, which impacted their retirement fund.
Cara is nonetheless optimistic about the success of Jazzie Beans LLC and the Sippie Clippie, and hopes to eventually hire employees. She is also interested in promoting opportunities for women's entrepreneurship, especially for other working mothers. The flexibility afforded to her as a business owner has allowed her to spend more time with her two sons and pursue her other passions. For example, she is in the process of hiring an illustrator for a children's book she authored.
"As a former corporate employee, pursuing my own business idea has given me a sense of meaning and control that I did not previously have," Cara said. "While starting my business has been financially challenging, it has given me the time to manage a family and grow professionally."