Chicago salon owner uses creative energy to survive crisis and bring self-care back to her community
Tuesday, June 16, 2020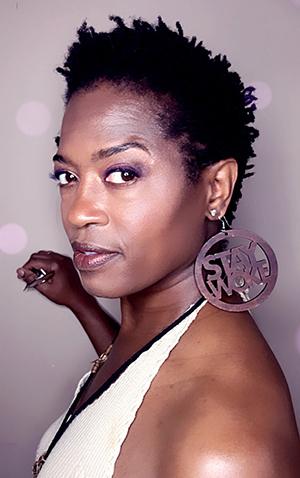 Sherry Spellers combined her two passions to create a small business success story: a knack for repurposing old trinkets, with the desire to make women look and feel beautiful.
Her journey as a hairdresser was marked from an early age, when a traumatic incident caused Sherry to lose her hair. "I felt so ugly and ashamed. I knew in that moment that I wanted to help women feel good about themselves, and hair was a great way to do that," says Sherry.
One day, walking around the streets of historic Bronzeville in Chicago, Sherry stumbled upon a seemingly small building that was up for sale. She decided to invest in herself, purchased the building with her partner, and opened her very own Amour Salon & Suites, a full-service hair salon that offers braiding, sew-ins, roller sets, and more. Now more than 20 years later, she's confident she made the right decision. 
"I'm so lucky to have found my building. This area was underdeveloped 22 years ago but now it's the center of thriving, African-American life and culture in Chicago," explains Sherry. 
Earlier this year, the self-employed entrepreneur had embarked on a remodeling project to renovate her business and bring a vision of wellness and serenity. Sherry says, "I have a very limited income as a hairdresser but I thought, I will design on a dime!" She reached out for help from Sassy Thrifters, a premier frugal group of people who share tips and sell repurposed items in the Chicago area.
Sherry explains, "I've always had a knack for repurposing old items and trinkets, and believe in recycling items so they don't end up in landfills. Everything in my salon has been thrifted, gifted, and reused." 
Sherry had to use this energy and think quickly on her feet once the COVID-19 pandemic forced business closures in Chicago. One day after closing her salon doors, Sherry applied for an Emergency Injury Disaster Loan (EIDL) loan and credits her mentor Nicole Wheatley of Steps Inc, Consulting in helping her get through the complicated process. Sherry received both an EIDL advance and a loan, and she used the advance to help adjust her business to a "new normal" when she reopened on June 13. Sherry modified her salon to have spray bottle disinfectant stations, hands-free soap dispensers, disposable capes, brooms, mops, a thermometer, and more. 
Sherry, like many other small business owners across the country, is hesitant to spend her EIDL loan in fear that she will struggle to pay it back, on top of all her unpaid bills and mortgage forbearance during COVID-19. 
Sherry says, "Being self-employed and an African American person, if you don't have a silver spoon in your mouth, you have to have decent credit. You can't survive without one or the other."
As the government continues to make changes to emergency loan assistance, small business owners are unsure about the Paycheck Protection Program (PPP) loan forgiveness process. Venturize has a comprehensive resource portal, including information on EIDL, PPP,  PPP loan forgiveness forms and FAQ, and more to assist borrowers in this process—which are also available in Spanish!